JBL is an American audio comapny that was founded in 1946 and its name comes from the founder: James Bullough Lansing. The company makes different electronic products but are pretty known for their speakers as they are considered to be a leading brand for quality speakers. This post is focusing on the best JBL Bluetooth Speakers the company has to offer. You can also check out our latest wireless outdoor speakers list to see more items. Each item on this list contains a short review of the product and a button to learn the latest price.
Important things to know before your purchase of JBL Bluetooth Speakers or any other bluetooth speakers
1: They are not a home theatre system.
Don't believe all those advertisements showing a cool portable bluetooth speaker as part of a home theatre system. while the basic or top models of bluetooth speakers can deliver high power sound and quality, it is not supposed to replace a solid home system. so just know this before hand.
2: Bluetooth isn't just that, you need to know what it means.
If you get JBL Bluetooth Speakers or any other speaker for that matter, make sure you check and know if the Bluetooth align. For example if your speaker has bluetooth version 4.0 and your phone doesn't. it won't necessarily work, in some cases it would but the pairing won't be compatible. Also some bluetooth speakers have the NFC ( Near Field Communication ) feature which will allow you to connect to near by devices just by placing them close together. Just make sure to know the specifications before buying.
3: Not all Bluetooth speakers are the same
Consider your need, before getting a speaker think long and hard what do you want from your speaker. Will you mostly take it outside? Will it need to be small enough to fit in your pocket or do you need a bigger louder speaker for garden parties? Make sure to consider your true need before committing to a speaker and spending hundreds of dollars. Scroll through the list of these JBL Bluetooth speakers and good luck.
1: 
JBL Flip 3 Splash proof Portable Bluetooth Speaker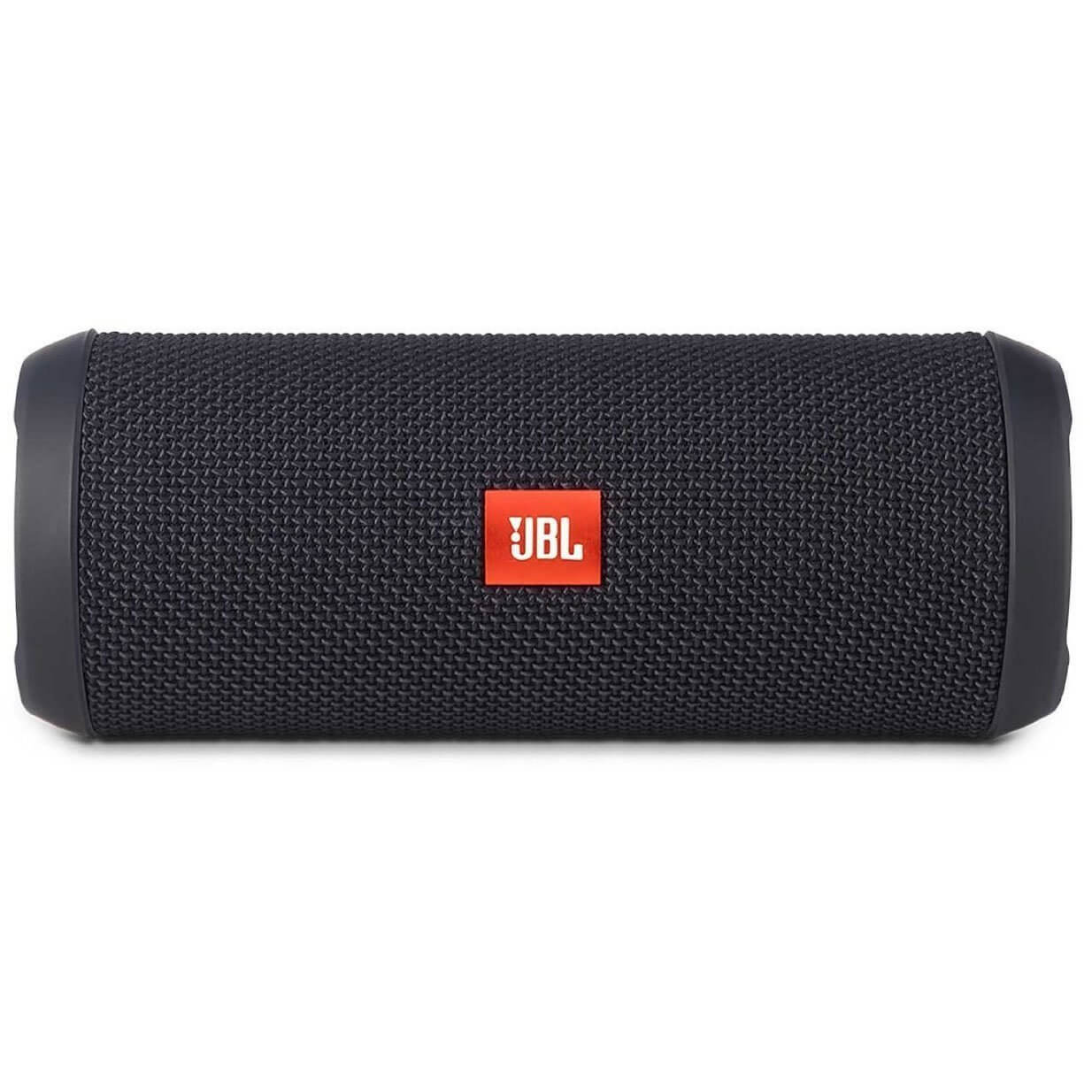 The JBL Flip 3 Splash portable bluetooth speaker is a next gen wireless speaker with an award winning specifications. It's portable and can deliver a surprisingly powerful stereo sound that can fill up a whole room. The ultra compact speaker is powered by a 3000mph rechargeable li-ion battery that can last 10 hours of playtime. It's available in eight different colors and comes with a durable and splash proof fabric cover. The Flip 3 speaker is an all purpose all weather gadget that can bring the music into your life, everywhere you go either it's at the poolside, or on a sunny beach or just a rainy night listening to your favorite tunes. the Flip 3 also comes with a built-in noise cancelling speakerphone for those important conference calls. You can also use the JBL connect technology to wirelessly link more JBL connect enabled speakers together to boost your music experience. Do you need more reasons? I don't think so.
2:
JBL Charge 2+ Splash proof Portable Bluetooth Speaker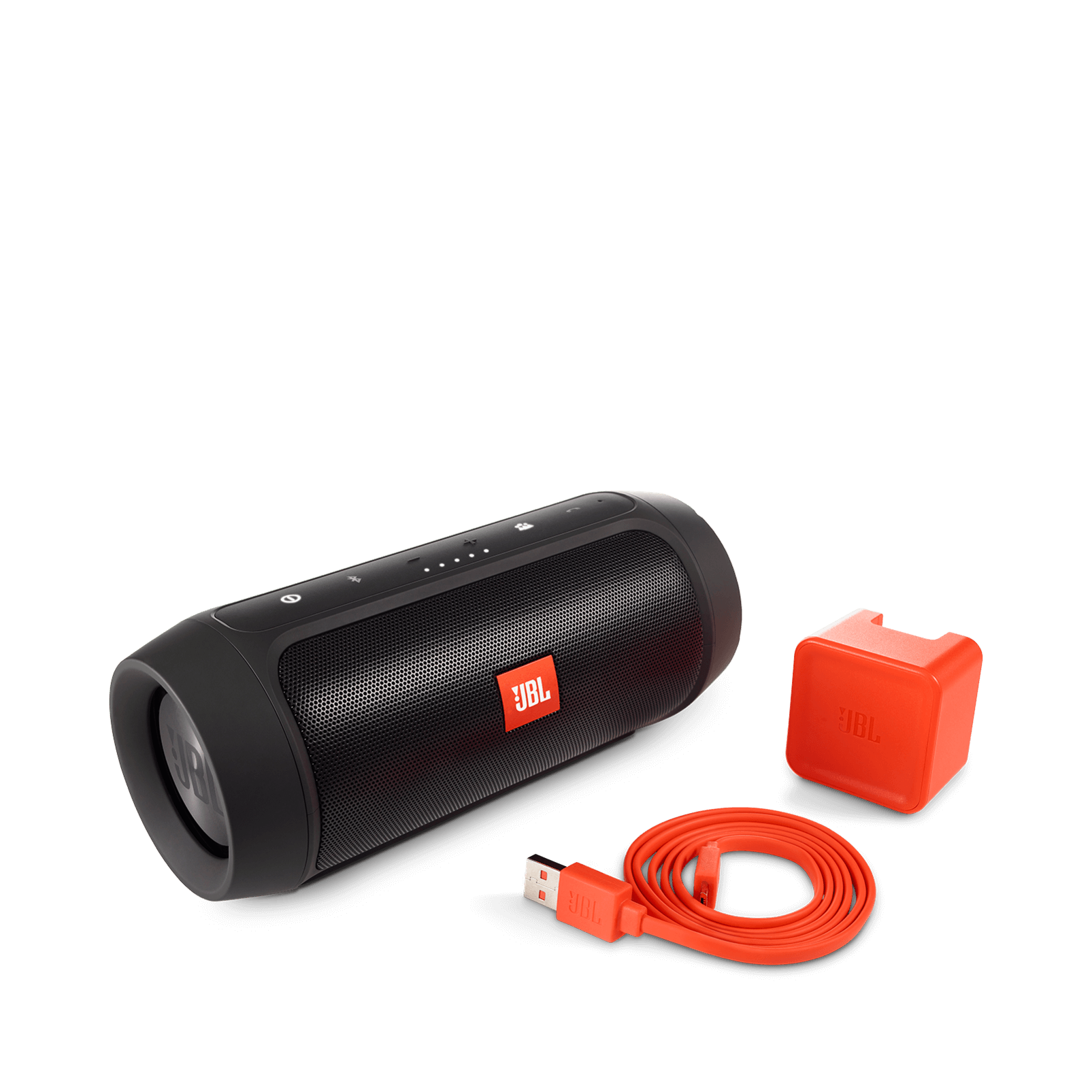 The JBL 2+ Splash proof portable bluetooth speaker comes with a big battery and is ultra powerful in delivering stereo sound. The speaker comes with a fresh style and design the charge 2+ will take your party whenever it's needed, poolside or walking in the rain, this baby will amplify your excitement with its power and flash. The speaker has a huge 6000mAh battery that can provide up to 12 hours of playing time and can even charge your Smartphone and tablet via USB. The charge 2+ also comes with a built-in noise cancelling speakerphone so you could make your calls with a clear sound. Wanna play your friends music on your speaker? No problem with the feature to share everyone's tunes with social mode by connecting up to three music sources to your speaker and choosing which one will play. The passive radiators field enough bass so you could actually see them moving from the outside and the build in microphone allows you to talk and scream at your audience without missing a single beat. The speaker also lets you wirelessly stream music through its Bluetooth feature, the device will work in the rain or even if you spill something over it, you can even clean it with running water if necessary but make sure not to over do it or submerge it. This is a great choice for sure.
3: 
JBL Charge 3 Waterproof Portable Bluetooth Speaker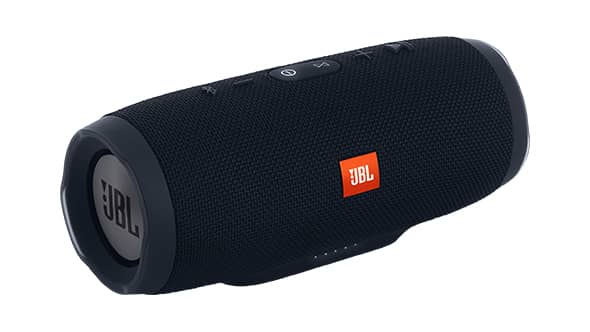 This model is a pretty good combination of the first two models and can easily be one of the best JBL bluetooth speakers. The JBL Charge 3 Waterproof speaker has a powerful stereo sound and a huge power bank all in one small package. Take with you anywhere you go as it is portable and don't worry about it working in the rain or near a pool, it is waterproof and comes with a durable fabric and rugged housing. The high capacity 6000mAh battery will give you playing time of up to 20 hours and can even charge your phones or tablets while you listen to tunes via its USB output. With a press of a button your can make crystal clear calls with the build-in echo cancelling speakerphone feature and don't forget about the cool feature letting you wirelessly link multiple JBL speakers to amplify your listening experience.
4: 
JBL Flip 2 Portable Wireless Speaker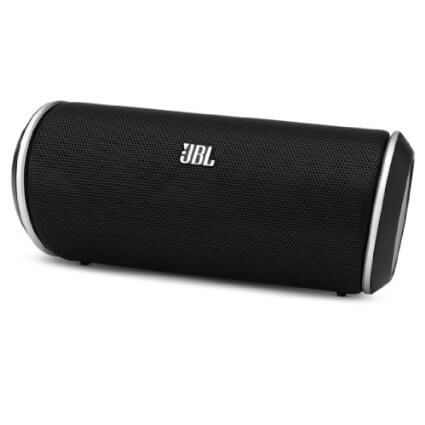 It has been said that this JBL bluetooth speaker is an award winning, if there is such a thing, it would definitely be a good contender. The JBL Flip 2 wireless portable speaker has rich sound that will push live into your other devices such as your phone and tablet. It has two drivers and a built-in bass port that delivers a powerful bass sound that adds attitude to your listening experience and crystal crisp vocals all inside this tiny speaker that can fit in your hand. This device can also work as a microphone with a noise and echo cancelling technology so you will be able to use the Flip 2 speaker as a hands free speakerphone. This device is a party in your hand that can be taken anywhere you go, with a powerful rechargeable battery this is a great choice for music lover everywhere.
5: 
JBL Xtreme Portable Wireless Bluetooth Speaker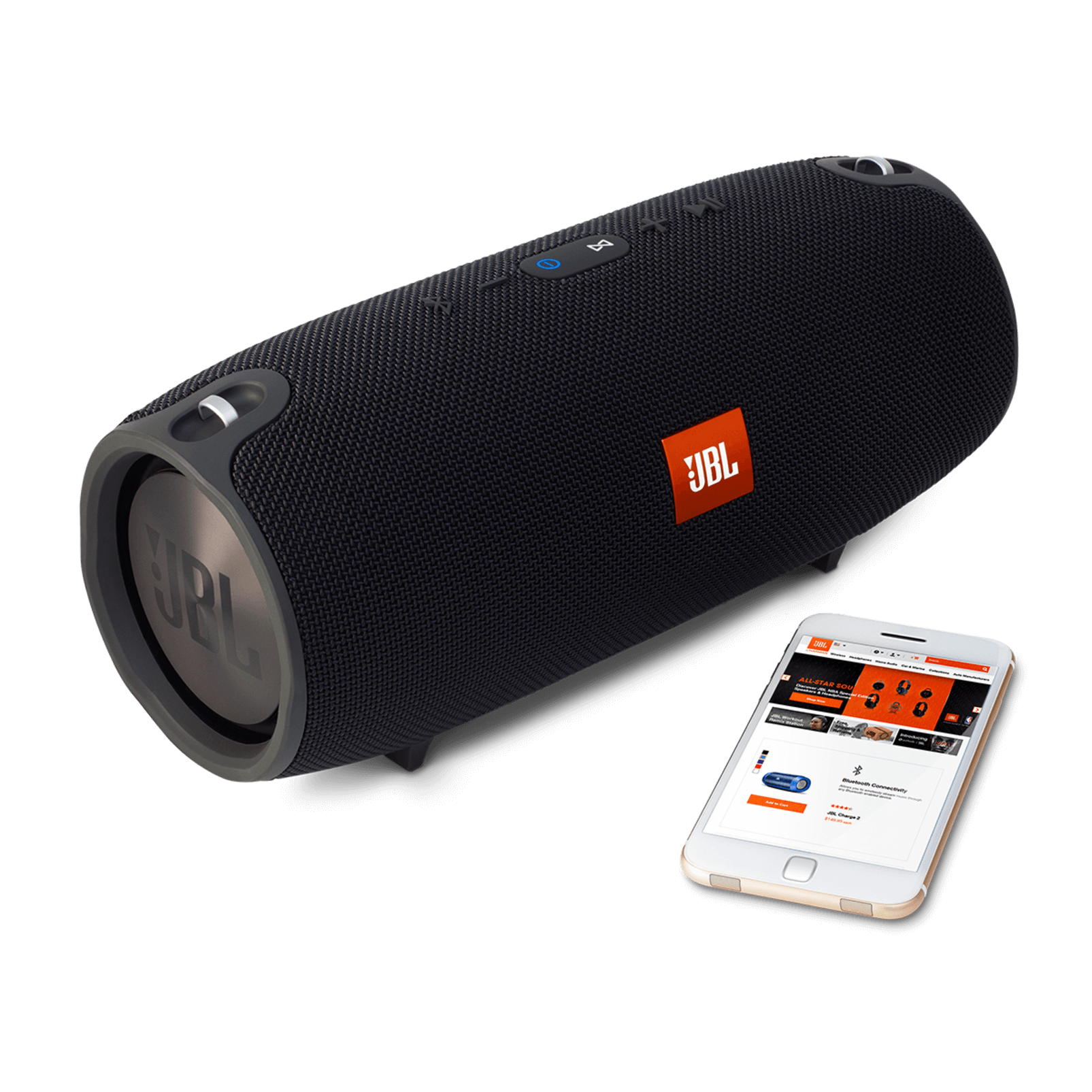 This JBL Xtreme Portable Speaker has a massive 10,000mAh li-ion battery that will give you up to 15 hours of playing time and also charge your devices with its dual USB outputs. This device will easily keep your devices and music going for as long as you need it to. Whenever you chose to use it indoors, or take it outside, the great JBL technology is known for giving great results and experience. the Splashproof fabric design comes in Black, Blue or Red colors and it also features a noise cancelling and echo cancelling speakerphone feature for making crystal clear conference calls. As other JBL Bluetooth speakers on this list, this also allows wirelessly link to multiple JBL enabled speakers to play music together and have a blast.
6: 
JBL Clip 2 Waterproof Portable Bluetooth Speaker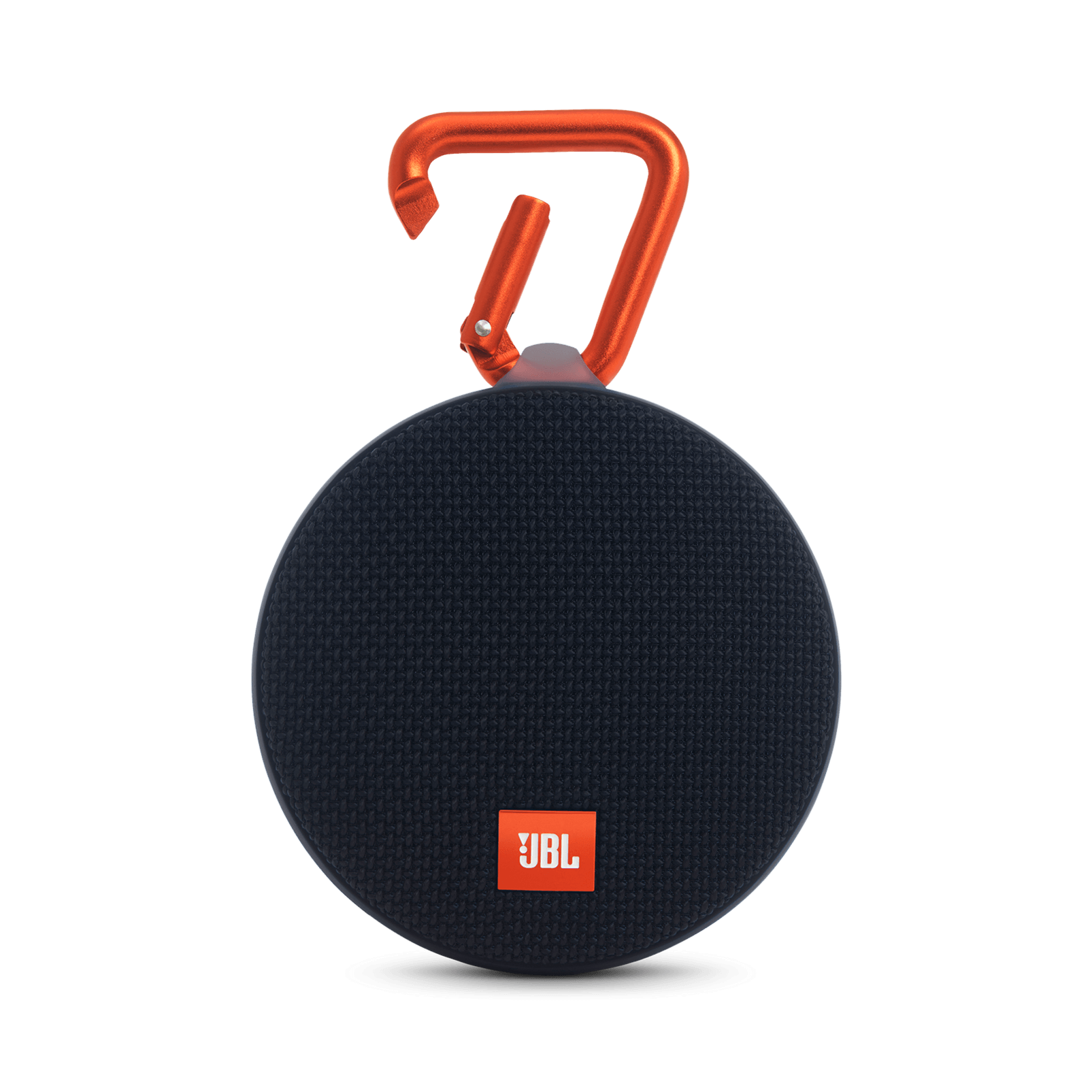 The JBL Clip 2 is really powerful and very light portable speaker. It is completely waterproof, the device can give you up to 8 hours of play time which is pretty impressive considering it's small size. The tiny design and clip allows you to take this little beauty when ever you go, either land or water. You can stream your music wirelessly or using the your phone or tablet as it can connect via an audio cable. Like other models of JBL this also has the feature that allows you to connect two Clip speakers together and play music together. It also has a speakerphone feature to make great calls. The JBL Clip 2 is covered with durable fabric that is completely waterproof, it got it's name because of it's carabineer that can clip to your clothes or backpack and travel with you wherever you go.
7: 
JBL Pulse Wireless Bluetooth Speaker with LED lights and NFC Pairing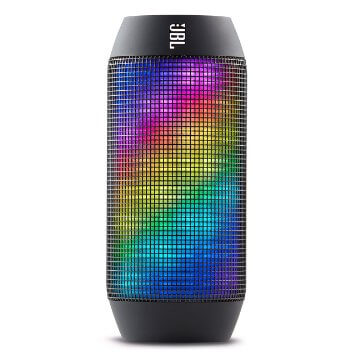 This cool JBL Pulse Wireless Bluetooth speaker has cool LED lights that let you feel your speaker is as unique as you are because it has build-in programmable LED lights inside. You can stream your music wirelessly and by Bluetooth from any smart device and boost it by the beautiful lights of this device. The JBL has a stereo punch with clear and powerful sound in a great portable package. The rechargeable lithium-ion battery will provide you with hours of play time and can be rechargeable with a USB cable. Customise your LED lights and get the party starting.
8: 
JBL Charge 2+ Splash proof Portable Bluetooth Speaker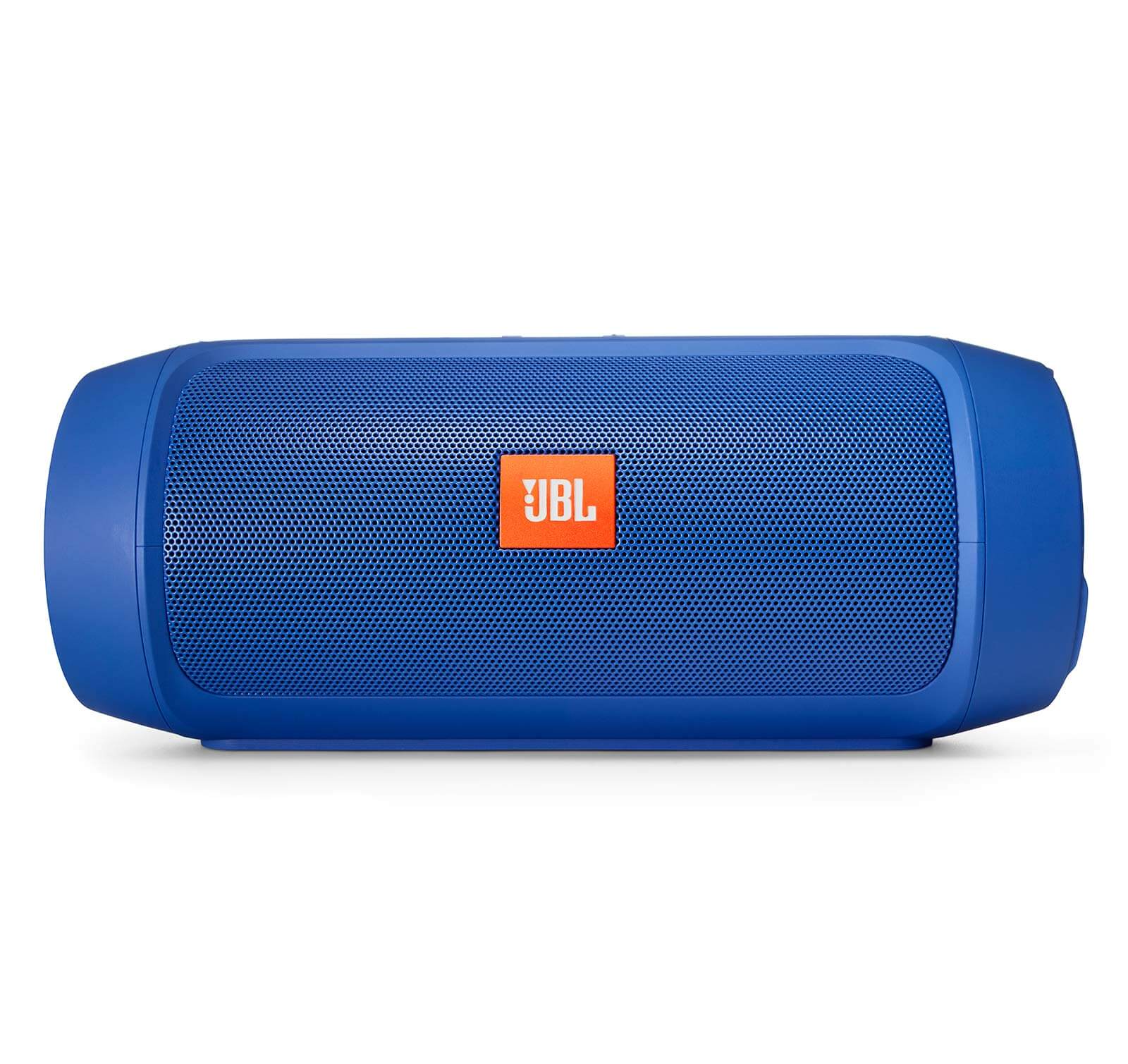 The JBL Bluetooth streaming with a dashing color of power blue has a 6000mAh rechargeable battery is a great choice. It is very similar to other models we wrote about in this post, but the difference here is the cool color. Check out the latest price for this cool JBL Charge 2+ Splash proof portable bluetooth speaker.
9: 
JBL GO Portable Wireless Bluetooth Speaker W/ A Built-In Strap-Hook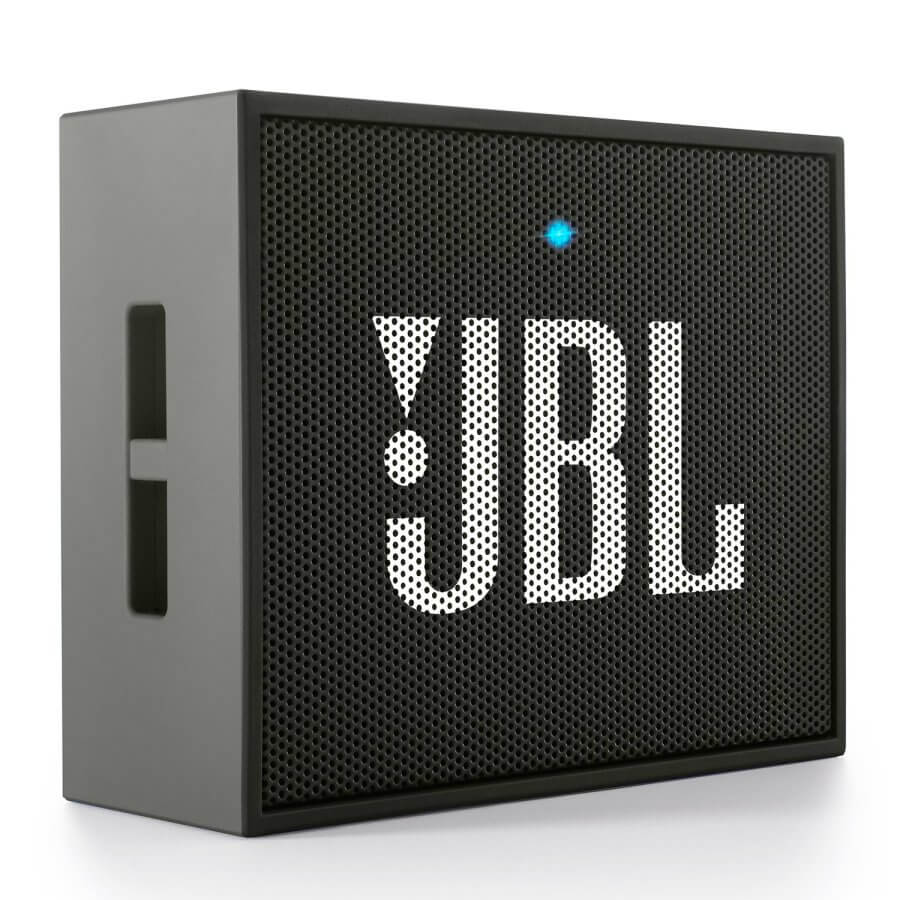 This model is pretty cool and different, it is compatible with your choice of iOS or Android devices which gives you the freedom you want and need. The device has a built-in strap that gives you the ability to carry the speaker with your with ease. It also comes with a 3.5mm aux input that gives the option to connect external portable sources through their headphone output. Comes with a rechargeable battery that connects with a USB port, the integrated microphone gives the option to accept calls too.
10: 
JBL Flip 2 Portable Bluetooth Speaker
For the last item on our JBL bluetooth speakers we take our familiar model the JBL Flip 2 portable speaker and give it a little twist, it has the same powerful features like the regular model but with a visual difference. This model comes in many different custom made colors and logos of NBA teams such as the Boston Celtics or Chicago Bulls. Other than that it is pretty much the same as the Flip 2 model above so there is no point of writing the same thing twice. This will be a great idea for a present to a friend or family member who really likes a certain team and likes to listen to music while on the go. Try it out, you won't be sorry
Hope we helped you choose the best JBL bluetooth speakers. Share this post with your friends to help them out too.