Looking for the best crepe maker are you? Well you're in the right place. Making yummy crepes is fun, you can eat them for breakfast, dinner and even launch because you have endless versions of the crepe, sweet, salty and what ever you like.
Instead of having to go out and pay at a restaurant every time you have a crave for a good crepe, it's a smart idea to invest a one time fee and get your very own crepe maker for your home. This way you can make as much as you want and with any topping you love and it will be much cheaper in the long run.
Easy access table of contents:
Things to consider before buying a crepe maker
10 top crepe makers list
How to make a yummy crepe at home recipe
Things to know before choosing the best crepe maker
Crepe makers were created to solve the annoying problem we all have when making crepes or pancakes and that's when to flip the crepe right? You either end up with one side that is burned to a crisp or one side that is still a batter, getting it just right is hard.
That's why the best crepe makers are designed to help you with the flip and the time it takes for each side to be ready. Consider these things before getting your next crepe maker:
Should you get a gas or electric maker?
Electric crepe makers are easier to use as you just need to plug them in, you can also take them with you whenever you go with ease, but they do take longer to heat up. Gas makers heat up very quickly, but you must have a gas line connected or use an extra gas source, which makes the whole thing not portable at all.
What's the temperature range?
The grater the temperature range, the more recipes you can make on your crepe maker. So consider this before buying one. The ideal range you want is 120F – 575F. This will give you plenty of flexibility to make all that yummy crepes you want
A single or a dual?
If you need or want to make large quantities of crepes in a hurry, like in a restaurant or a small caffe place, than maybe a dual crepe maker is good for you, but if you just want it for yourself and family, the single would be just fine. Also consider that the dual maker takes up much more space on your counter top.
Size matters
Most crepe makers offer the standard size of 15 ¾ – 16 inches. But there are some brands that offer a smaller plat of just 13 inches. So before buying a crepe maker, you should consider how much room you have on your kitchen counter and if you like to make huge crepes or smaller ones on a regular basis.
What material?
This is a big one. The best crepe makers should have the best materials. The exterior should be made of stainless steal and the cooking surface should be cast iron. These babies will last you a long time with heavy use. But don't worry about it too much if you're gonna make just one crepe here and there, if you're a light user you can use a non-stick griddle plat and plastic frames.
Does it come with a warranty?
Warranties are important when buying almost any electrical device. In this case, you want to make sure you have a warranty on the cast iron, if it breaks or gets damaged in any way, you want to be able to replace it quickly.

Here are the 10 best crepe maker models for your kitchen
1. Cuisinart Nonstick Hard-Anodized 10-Inch Crepe Pan
This Cuisinart Nonstick Hard-Anodized is a pretty inconspicuous crepe pan. You can use it to make breakfast crepes. You don't have to worry about your crepes sticking because of it's nonstick surface. It's got a long handle to make it easier to swirl the batter and you can even use it to make pancakes.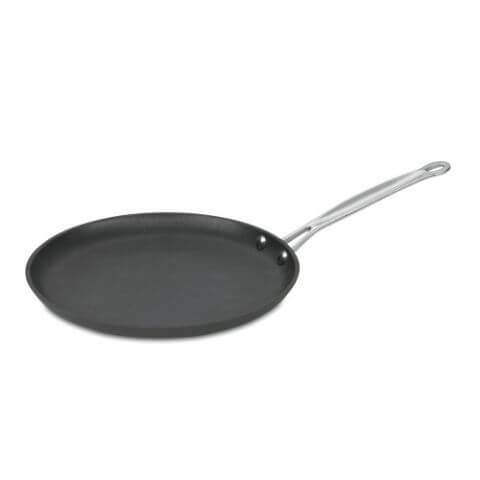 2. Cordless Crepe Maker by CucinaPro
Best quickly preparing your crepe
This is a cordless crepe maker by CucinaPro so it's easy to move around and put away. It comes with a "dipping plate." That's a shallow batter dish that you dip the heated place into instead of pouring and spreading the batter by hand. This works perfectly for thin enough batter without clumps. And thanks to a little flashing light, you won't have to guess whether or not it's hot enough to start cooking.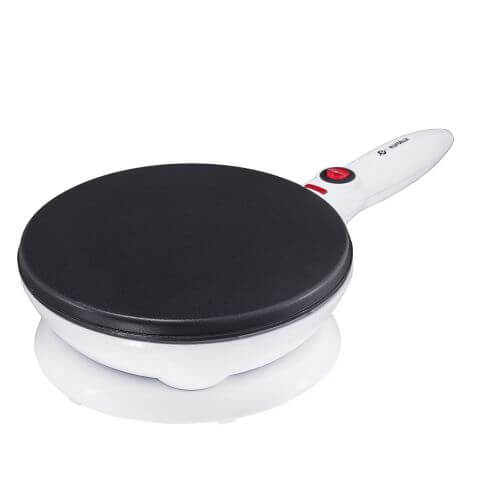 3. CucinaPro Griddle Crepe Maker
Best for keeping it clean
This crepe maker also by CucinaPro Griddle is fool proof! It's got a lip around the edge to make sure that you don't lose any batter over the side. It also comes with a dowel spreader so you can swirl your batter like a pro.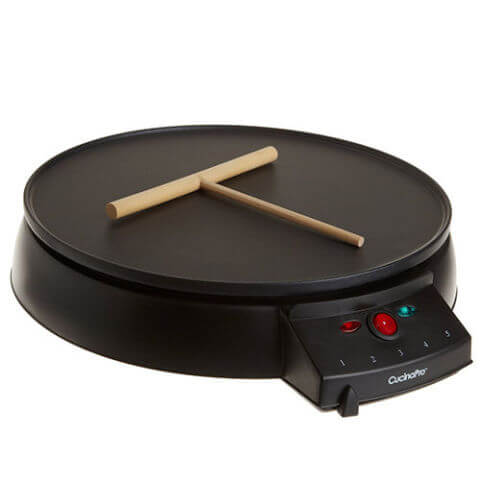 4. Le Creuset Enameled Cast-Iron Crepe Pan
If you can't trust a French company to make amazing crepe pans, who can you trust? Le Creuset Enameled Cast-Iron has been making beautiful enameled cast iron pots and pans for almost 100 years. Needless to say, they know what they're doing and they've been doing it for a long time. So if you've got some money to spend and want to treat yourself to an awesome new crepe pan, this is it.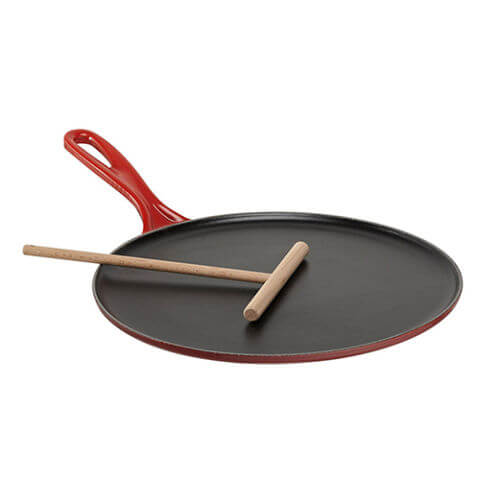 5. Electric Crepe Maker by Paderno World Cuisine
Best for many different heat spectrums
This crepe maker by Paderno World Cuisine can do it all with it's wide range of temperatures. You can make many different types of crepes with this or even pancakes. It also comes with a spreader tool that rotates around the pan so you get even batter distribution. This is the perfect crepe maker for people who aren't so coordinated with the wooden dowel.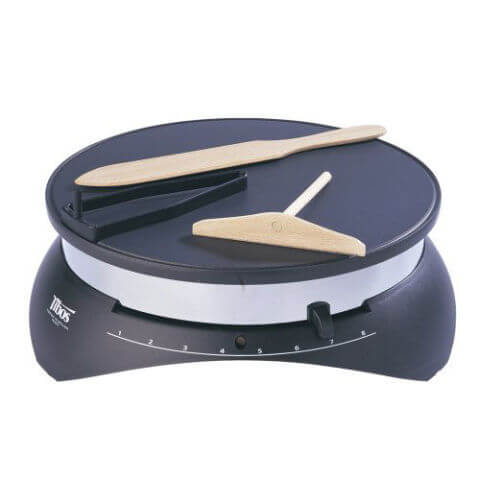 6. Morning Star Crepe Maker
Best for making big amounts
Go big or go home! This Morning Star Device crepe maker has a 13-inch surface so you can make even bigger crepes. Or pancakes, or eggs, what ever you want! The Mornings Star crepe maker has an indicator light that lights up when you reach your desired cooking temperature. And for those who are a little messy, it's got a lip around the edge to prevent spillage. And clean up is so easy, just wipe it with a paper towel and you're done.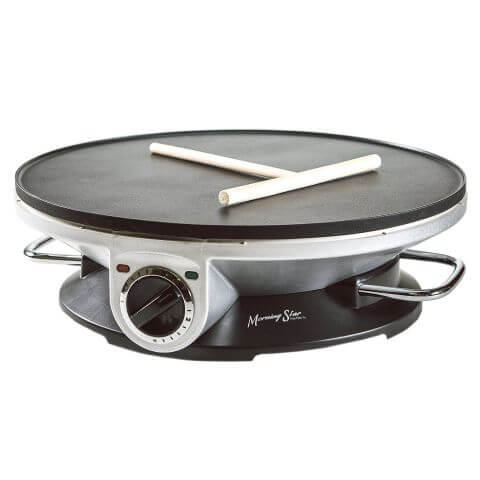 7. Lodge Pre-Seasoned Cast Iron Round Griddle
Best for experienced cooks
Cast iron is the best kind of pan to cook with for flavor, nutrition and cooking ease. A cast iron pan builds up seasoning over time and the pan becomes smoother and more even. That's why this pan from Lodge Pre-Seasoned Cast Iron is so great for crepes. Just re-season it before you use it for anything like pancakes, bacon or crepes.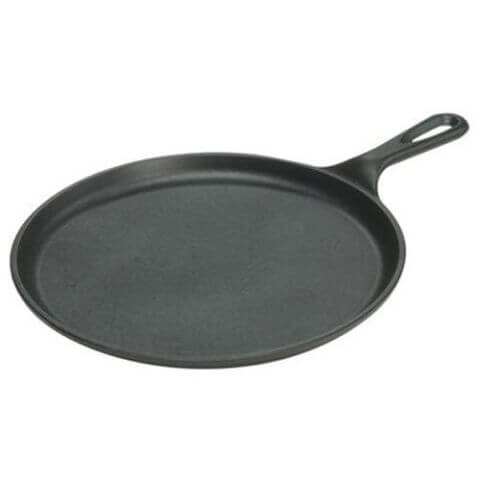 8. Cuisinart International Chef Crepe, Pizzelle, and Pancake Plus
Best for making pretty much everything
This crepe maker from Cuisinart International Chef does tortillas, pancakes, pizzelle cookies and crepes. It cooks everything from both sides and comes with special pizzelle plates, and ice cream cone roller and a measuring spoon. It does just about everything you could possible ask for.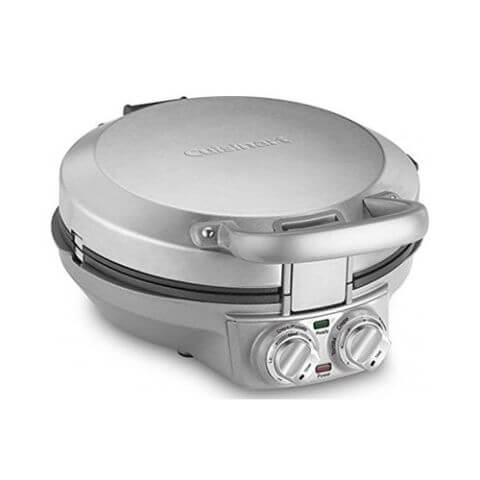 9. Krampouz Electric Crepe Maker
Best for shops and restaurants 
If you're looking for a crepe maker fit for a pro, this Krampouz Electric machine is the one for you. It provides consistent and uniform heating so your crepes turn out perfect every time thanks to it's three coiled heating elements and cast iron cooking surface. It's also got a heat indicator light so you know when it's hot. If you want to make crepes like a pro in your own home, choose the Krampouz Electric crepe maker.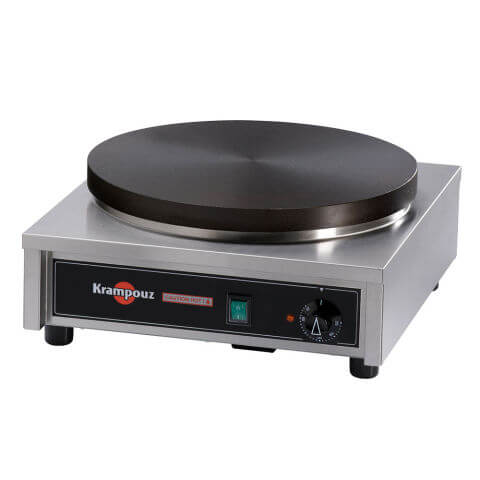 10. Waring Commercial WSC160 Heavy-Duty Commercial Electric Crepe Maker
Best for heavy commercial use
This Waring commercial WSC160 crepe maker has the cast iron surface that professional chefs love and a sturdy stainless steel base. It's also got heat-resistant carrying handles so you can move it around even when it reaches it's highest temperature. And it's got an adjustable thermostat that goes up to 570 degrees to cook any kind of batter quickly. When it's seasoned right it becomes completely non-stick, making cooking so much easier. You'll know the surface is ready for cooking when the ready indicator lights come on.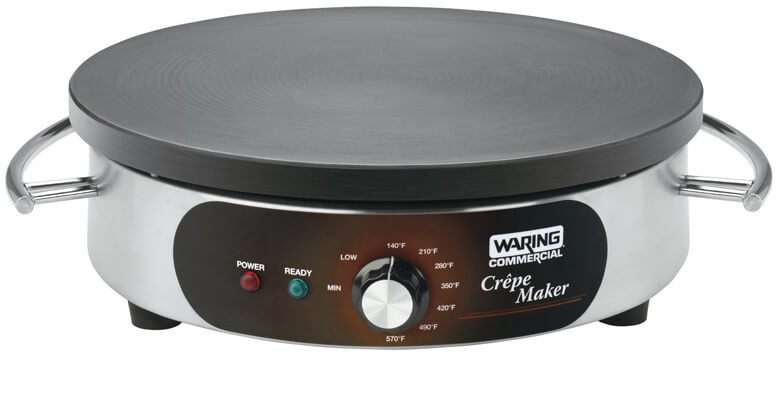 OK, so now after you picked up the best crepe maker for your kitchen, we want to help you make the best crepe you can. So below you have a yummy recipe for making crepes.
Watch this detailed video recipe showing how to make the best crepe with the top crepe makers: