Let's face it, we stink right? Guys sweat much more than girls and to fight the bad body odor it's important to use a good deodorant or antiperspirant for men or women.
If you're one of those smartness who think their natural body smell is great and that using deodorants is not good for you, check out this little brain teaser: According to a dating pool conducted by Oxygen Media, roughly 87% or women say that bad body odor is a huge turnoff.
Still thinking your body smell is the smell of champions? Did 9 out of 10 dates you went on lately just didn't work? Now you know why. Luckily for you, this list of the best deodorant for men and antiperspirants will help you smell better, and feel better.
The market of deodorants and antiperspirants is huge, around $18 Billion a year, this means you get thousands of different companies trying to compete for your money and you have lots of brand to chose from. Here at The Geeks Daily we created this list of the best deodorant for men to keep you from smelling, and the best antiperspirant for men so you won't sweat that much. If you don't own at least one of these products by the time you finish reading this you should be ashamed of yourself.
The difference between deodorant and antiperspirant
Not many people know that there is a difference between a deodorant and antiperspirant, most of the time people think they both mean the same thing, but in fact these are two very different things.
Below you can read the explanation on how these two are different or you can just scroll through straight to the list of the best deodorants for men.
What is Deodorant?
For those who don't like to read much, in short, deodorants are meant to hide the smell of your sweat. Let's learn how. Sweat has no smell, the sweat smell you notice comes from bacteria that break down different elements of your sweat and that causes the bad odor.
Deodorants have 2 main goals:
They control the bacteria and try and minimize it so you won't smell that much.
They have a little bit of perfume in them to make you smell good.
Putting on deodorant won't reduce how much you sweat, but it will help with the bad odors.
What is Antiperspirant?
Remember a second ago when you read that deodorants won't stop you from sweating? Well antiperspirants will. They have some ingredients in them that dissolve into your sweat and create a gel like barrier on your armpits that results in lesser sweat. These ingredients are usually aluminum salts )
Now don't think that just by putting an antiperspirant now and then you won't sweat at all, they help a lot with sweating, but it's not bullet proof. If you're a guy who sweats a lot, it's better to use a combination of deodorant and antiperspirants to fight your bad odor and sweat.
How to chose the best deodorant for men or antiperspirant?
The easiest way is to just google it, search for terms like " What is the best deodorant or antiperspirant for men " or other searches like it, most of the time you will find not so accurate results written by un professional writers.
The only thing you need to ask yourself when choosing a deodorant is: Is this brand right for me?
The reason we say this is the simple fact that everyone's body is different, and some people sweat a lot with heavy odors and others hardly sweat at all. So when choosing the right antiperspirant or deodorant for you you need to know that everyone is different.
So how do you find the right one? Well, you need to try a few products until you hit the one that's best for you. To minimize the search and help you find the best one quickly, you can start with well known brands that are known to help large groups of men around the world.
Browse the list below to find the best deodorant for men or antiperspirant you need in your life
The 10 best deodorants for men and antiperspirants
1. Old Spice High Endurance Pure Sport Deodorant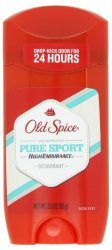 One of the most famous and well-known brands when it comes to antiperspirant deodorants for men, is the Old Spice. And looking at their top selling products, they have the High Endurance Pure Sport Deodorant as one on the list.
This old spice high endurance deodorant is one of the odd ones because of the absence of aluminum, thus giving this deodorant a weak chemical scent. It is the same chemical scent you can get from other antiperspirants produced from various brands, such as Degree, Speed Stick, Axe and Old Spice. This chemical scent of the Old Spice is greatly covered by the Pure Sport, having a clean and fresh scent.
2. Speed Stick Ocean Surf Deodorant – best deodorant for men list continues below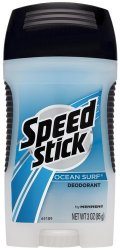 If you are looking for a cheap deodorant that works well just like what the Old Spice have, then you must check on the Ocean Surf Deodorant of the Speed Stick.
It also doesn't contain aluminum, but still have a surprising component. So, you can still have a branded experience. This deodorant is comparably and highly competitive. Having a tough competition with the Old Spice is remarkable, but still, the Speed Stick remains on this rank due to its extraordinary balanced scent. It is not too mild nor strong and that makes it perfect for everybody.
I guess that is fair enough to choose a cheap deodorant, having such quality as was compared to other products. And then, as a plus is the impressive black grip that makes it comfortable to use.
3. Jungleman All-Natural Deodorant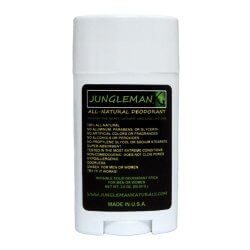 If you are a guy looking for a usual deodorant, then you better check out the All-Natural Deodorant of the Jungleman. So, what makes this deodorant effective anyway? It is, of course, the ingredients out of a 100% natural formula. Enough to keep you smell good and fresh the whole day. It is indeed a good deodorant, but it is not on top of the rank. That is because it is not user-friendly. Applying the deodorant tends to mass up the surface. Therefore, using it gives a rough time to apply. But, you can see the Jungleman on the third rank because this deodorant works well. So, do not be worried that using this deodorant won't make you feel fresh. Your stinky odor won't be a problem. This deodorant comes at a reasonable cost for a great value.
4. Arm & Hammer Essentials Solid Deodorant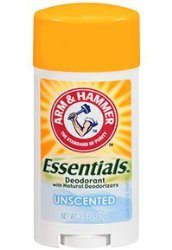 Who doesn't know Arm and Hammer anyway? You might be thinking about the baking soda and you are right. This deodorant does not use aluminum ingredient. Instead, the Arm & Hammer Essentials Solid Deodorant makes use of baking soda, combined with an extract of natural plant, which absorbs the toughest body odor. This stick is solid. It has chemicals and without a scent. This deodorant is very much affordable and you can get a stick for $3 up.
5. Anthony Logistics Alcohol Free Deodorant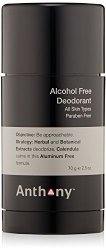 The Anthony Logistics Alcohol Free Deodorant simply wants every guy to know that it will work for you. It is because of the combined plant extracts, instead of using aluminum ingredient. The herbal and the botanical sources produced a natural scent that will make you feel clean and fresh throughout the day. It is an extremely effective deodorant with ingredients of high and great quality. This deodorant is a bit more expensive, but believe it. What you paid for is what you will get.
6. Truly's Natural Deodorant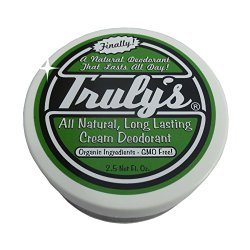 When it comes to fighting a stinky body odor in a pretty exceptional way, then consider the Truly's Natural Deodorant. The Truly's makes use of sugar formula, and then when mixed with sweat yields to a solution that controls the bacteria causing your body odor. Another ingredient added to the formula is the natural coconut oil extract that serves as an antibacterial, thus keeping you fresh all day. You can get this deodorant at a reasonable price for only $8 with a money back guarantee offer for dissatisfied customers. It may seem like a price for an overall package.
With such great use, it didn't level up on the top rank. It has something to do with the way you apply the deodorant. You have to use your fingers when applying this deodorant. Dip it into the cream, and then apply it on your armpit. Guys can't avoid having a hairy armpit, but then rubbing this deodorant into your skin every day is not every guys' preference. But, if that situation is fine with you, then it is a must try deodorant.
7. MenScience Androceuticals Advanced Deodorant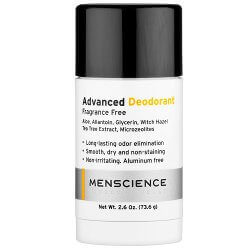 The amazing Androceuticals Advanced Deodorant made me a huge fan of the MenScience. They just created an extremely effective and an unbelievably long lasting deodorant. This creation stops the body odor and it lasts throughout the day. This is also ideal for men who has a sensitive skin. So, what makes up this non-irritating deodorant? It is designed with a hypoallergenic ingredient without aluminum chemical and it is an alcohol free deodorant. That's how simple their formula is. So, if you are up to the best deodorant to use, then this is the one.
8. Baxter Of California Citrus And Herbal-Musk Deodorant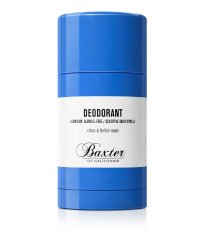 In 1965, the Baxter of California Company was formed. It was the first company to produce products with a high quality of men's grooming. The Herbal-Musk Deodorant is one of their best-selling products. It has a great citrus scent and a mild herbal-musk finish. There are various commercial deodorants available, but this one is really unique because it was perfectly designed with any traces chemical smell. It doesn't have an overwhelming smell, but has a fairly strong scent that I highly appreciate. This deodorant is similar to the Anthony Logistics Alcohol Free, which has a milder scent. The Baxter's is designed for men with a sensitive skin. It does not contain alcohol and aluminum ingredients. This deodorant is not only for you fighting that stinky body odor, but also to guarantee your awesome smell.
9. Herban Cowboy Forest Maximum Protection Deodorant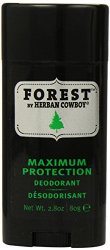 Looking for a total natural deodorant that offers a maximum odor protection? Then, why not try the Herban Cowboy Forest Maximum Protection Deodorant? Do you need more information about how this deodorant will protect you? It surely is not necessary because this deodorant really works. Once applied, you will be kept fresh throughout the day. This deodorant from the Herban Cowboy leaves a macho, a woodsy, a natural, fresh and a well-balanced smell. This great product is a solid and an all-around deodorant.
10. Every Man Jack Cedarwood Deodorant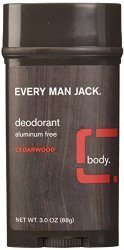 Another solid deodorant is the Every Man Jack Cedarwood Deodorant. It simply gleams in its scent and aroma, leaving you an elusive and manly smell.
It is designed totally natural with the combination of the lichen and rosemary extracts as antibacterial agents that will regulate the development of the bacteria causing the body odor.
So, if you are looking for a men's deodorant out of natural contents that works at its best with an amazing smell, then this is the one that you need.
Here are 2 antiperspirants for men that's worth checking out:
1. JACK BLACK PIT BOSS ANTIPERSPIRANT & DEODORANT 2.75 OZ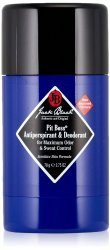 Another solid stick of deodorant is the Jack Black Pit Boss Antiperspirant & Deodorant at 2.75 oz. This product offers a maximum protection from bacteria causing underarm wetness and bad odor. It might be harsh on the bacteria, but it works gently on your skin. Again, when it comes to your clothes, no stains or residues are left. The main function of this product is for the underarm to reduce sweating and to maintain its dryness. It also has a long lasting scent and it works effectively with men who produces excessive sweat. Another good thing with this vegan product is that it contains Vitamin E that helps the skin's condition and nourishment.
2. MOLTON BROWN RE-CHARGE BLACK PEPPER ANTIPERSPIRANT STICK,2.6 FL.OZ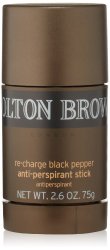 There are men who prefer a cheap, but good deodorant. There are also those who are questioned for spending much on an expensive deodorant. But, if the price of the antiperspirant is worth satisfying, then why not grab one for a change? You might find the Molton Brown's Re-Charge Black Pepper Antiperspirant at 2.6 fl. oz. expensive and a stick lasts for two months, but men are still on it even if it adds a size to their budget. It is because the antiperspirant worth every money they spent. This all day sweat-free antiperspirant gives an amazing smell. It glides smoothly on the armpit and effectively blocks out the pores of your skin. It is indeed a stick, but you will notice your clothes, leaving no stains or residues. With such quality and beauty, then why not treat yourself to luxury? You surely deserve it. This antiperspirant might not be on the top of our list, but it will surely do catch your attention.