If it's for the office or for your home, a good and reliable cable modem router combo is an important item you need to own. The benefits of getting a combo product is the fact you don't have to buy two separate items: a WiFi router and a modem to get the job done. You just get the combo and enjoy a two in one product. With the modem that holds the two devices together, it's easier to browse the internet and work  with no interruptions. In the article below we tried to show you the best modem router combo, we did our best to review each product and give you the pros and cons of each one.
Why is it best to buy a cable modem router combo anyway?
Here's a quick comparison chart for the best modem router combo
NETGEAR N300 (C3000) – Best Cable Modem Router Combo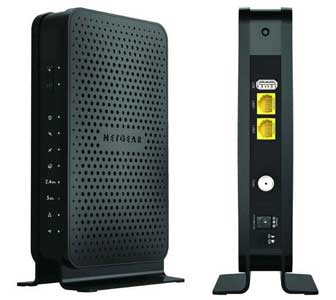 Netgear has done a great job with this router, it has an in-built modem that can actually improve your browsing speed and overall functionality. This model is also known as the C3000 and the router will also let you experience your maximum speed from your internet plan. Wanna hear more good news? This router is really convenient priced and with the built in modem you don't need any additional device.
The C3000 router is an N300 router, but this cable modem router combo can still easily give you speeds of up to 340 Mbps download and 300 Mbps upload which is pretty great when you think about. You can get more speed out of your existing plan with this device.
The Netgear C3000 also comes with a rare feature that you normally don't see in a router and modem combo and that's allowing you to connect two wired devices directly to it. It also comes with a USB 3.0 port so you could share media and connect a printer.
With the included Genie App it's very easy to manage your network remotely from any device you want. It will also improve your speed by %40 while transferring files over the home network. Last thing that is also important for users who are new to all this, the setup is very easy and simple to understand and you can get your network up fast and easy.
Pros 

Cons

 
 Gives separate access to guests that is safe
 The router modem combo is not compatible at all with the cable-bundled voice services
 This modem router combo is great for HD gaming and video
 Really easy to set up
It's compatible with many US cable suppliers
TP-LINK ARCHER CR700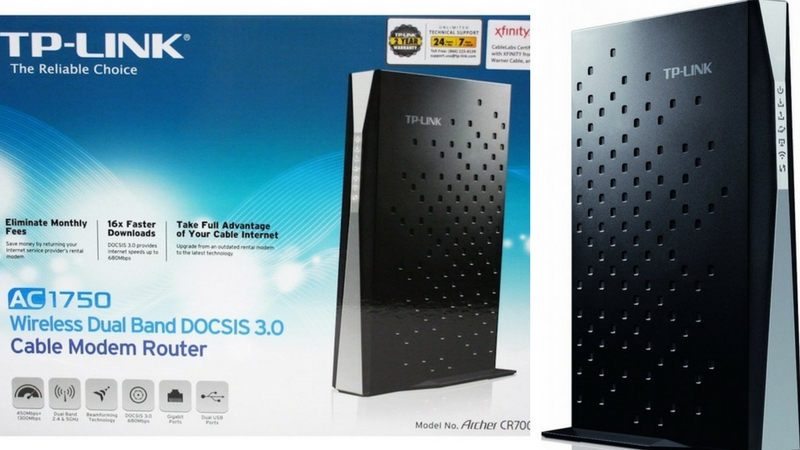 The Tp-link brand is well known and needs no introduction, they make quality hardware we all know this by now and this great device is no exception. It has an in-built modem that is recommended by top service providers like Time Warner, Xfinity and Cable Vision. What sets this router modem combo apart from the pack is the average speed that is just awesome! Can reach to up to 1750 Mbps across two frequency bands.
The speed of this cable modem router combo is excellent and can reach well over 600 Mbps and combined network speed of 1750 Mbps. You can also enjoy the 5GHz band frequency to avoid signal disturbances. This device will provide you with great quality and efficiency when you want to download huge files or handle big transfers, gaming or HD video.
The range of this router is solid and should work great even in large homes of 2 stories without worrying with a weak signal. This router also supports beam forming technology which is a cool feature that focus the signals that is sent from the device in the direction of the connected device. This makes sure that the signal you're getting is strong and consistent.
The modem has a dual processor which means it can handle large tasks with no problem. If you have multiple users using the same router you get a great experience and no lag because of the dual processor.
Pros 

Cons

 
 Big range because of the beam forming tech
Not ideal for cable subscription tiers over 300Mbps
 Great speed of up to 1750 Mbps
 Well known brand
Comes with a two year warranty
ARRIS SURFBOARD AC1750 [SBG6782AC]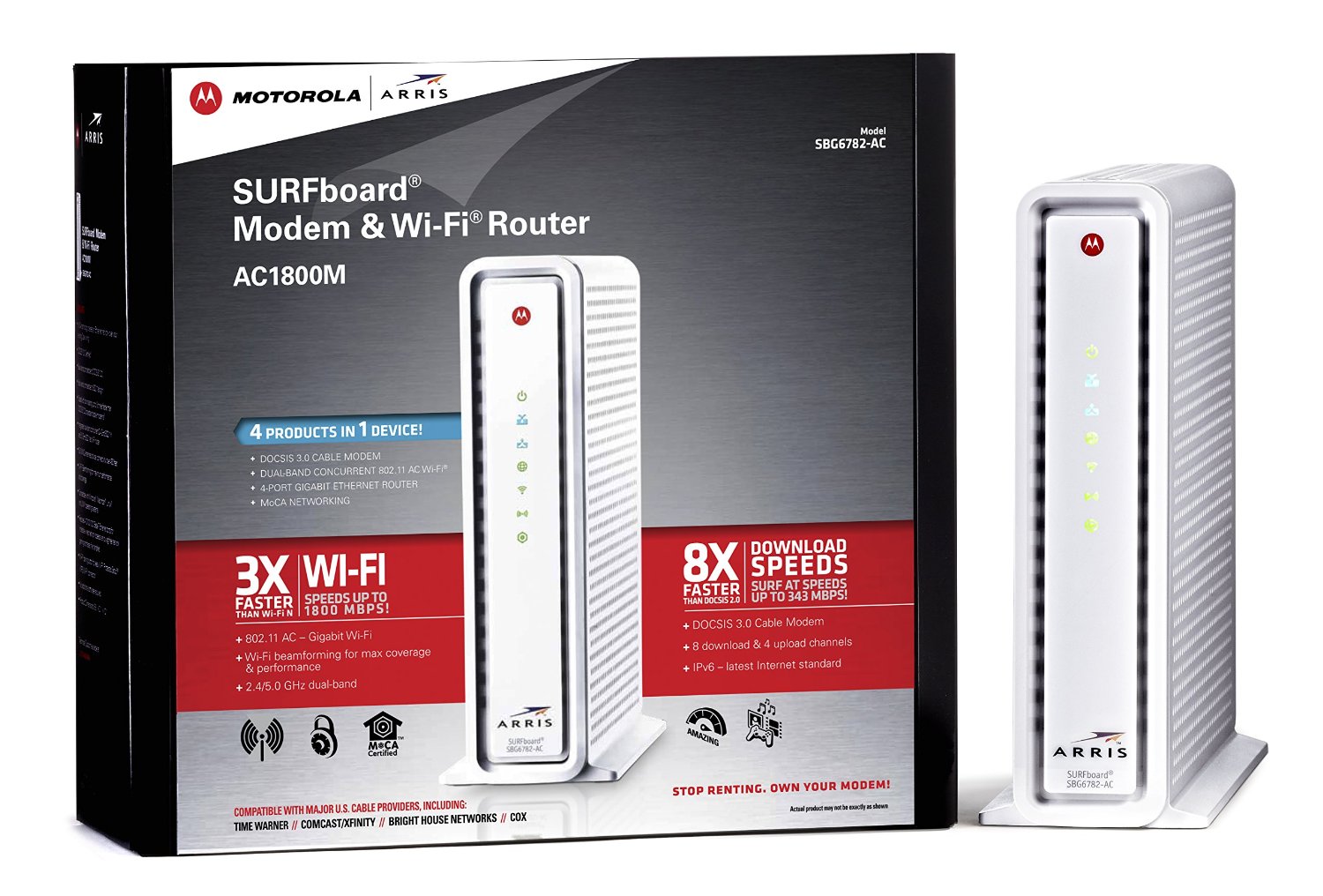 A lot of you won't know this, but Motorola is a strong player in the modem industry. The SBG6482AC is a great modem that is more known as the ARRIS SURFBOARD AC1750. The company says that their device can deliver up to 8 times faster download speeds and up to three times the wireless speed of regular networking setup ( We don't know this for a fact, so don't trust this 100% ) But this device is still solid. It is well recommended among service providers and it's approved by every service provider in the country. That says a lot.
This device uses a new antenna technology called the Mimo Technology, it will boost the range of this modem by up to 450 feet which should be enough for you home unless you live in a huge mansion. In case you're not, and you're living in a regular place, this modem router combo has a great range.
People who need to transfer huge files and data will find this next feature very important. The new technology can deliver better download speed by combining the eight downstream and four upstream channels. This is a little bit technical but if you need it, you know what it means.
Last thing that makes this device great is the compatibility, it will work on any computer with any operating system. Doesn't matter if you own a Mac, Linux, Windows or Unix, this modem will work just fine. A lot of other devices do not have this wide range of compatibility, so this is a big plus.
Pros 

Cons

 
 Huge range of up to 450 feet
Some users reported it may need constant re-setting
 Great speed
 Compatible with all computers and operating systems
New Mimo tech
ZOOM TELEPHONICS AC1900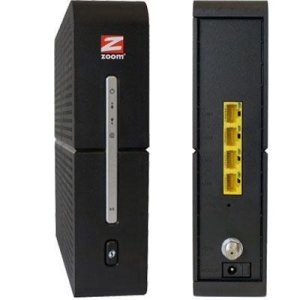 This cable modem router is a very known brand with the internet service providers like Comcast, Time Warner and others. The ZOOM Telephonics AC1900 Like other mid-range routers we feature on this list, this too has all the basic features you would expect from your modem. Like you see from the name, this device works on the AC standard and can support up to 1900 Mbps speed ( huge right? ) It also has other features that make it stand out from the rest of the products on this list of the best cable modem router combo.
This modem comes with Broadcom's full band capture technology that can really speed up this model's speed. It can reach an impressive speed of 343 Mbps which is pretty good when you think about it.
Because this model is AC this means that it will support all the standards made before it. What that means? Well all the  802.11 b/g/n will also be compatible with this cool device. This will allow you to use some old models to their full potential if you wish.
Some other features this model come with are WPS, Beamforming, Parental Control and many other security features you need in your life. The modem also supports the IPv6 types of addresses and it comes with a unique feature that is called MoCA that allows you to share media over the home network. Lastly please know this device can support up to 16 different SSiDs, ip filtering and even VPN Tunnelling. Wow, that's a lot of features man.
Pros 

Cons

 
 Supports fast speeds of up to 1900Mbps
Poor built quality
 Beamforming feature
 Setup process could be better
 Many known service providers support this model
NETGEAR NIGHTHAWK AC1900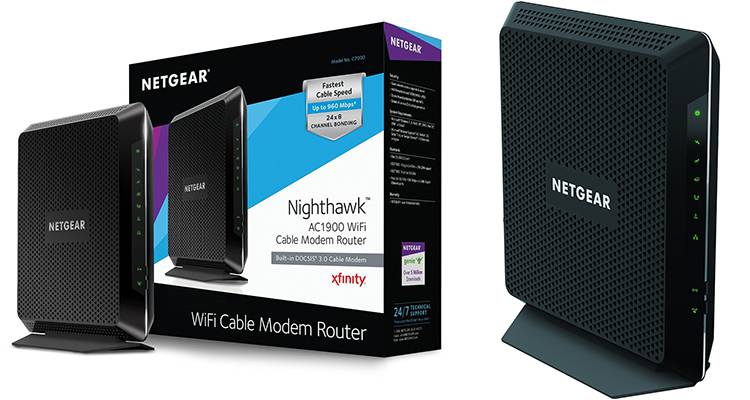 The NETGEAR NIGHTHAWK AC1900 is really recommended because of its efficiency, It also delivers a reliable connection because it uses the latest DOCSIS 3.0 technology that helps with that and its great speed. The modem router combo is capable to deliver 1900Mbps and also supports the AC standard. Many service providers recommend this modem like Cox Premier & Ultimate, Comcast and many others. A lot of these service providers say that using this model will improve your speed ( we didn't check this though )
The model comes with a 1.6 GHx processor that turns this model into a beast when handling heavy tasks with no problem. This router modem is great for HD gaming and streaming. Some users reported having speeds of up to 900Mbps with this device because it uses Channel Bonding, which is a relatively new technology the can effectively increase the download speed. If you're like most people who suffer speed issues during peek times, this modem can help with this issue to get the maximum speed you need.
Like all NETGEAR devices, this model also comes with the Genie App which is a very user-friendly app that lets you access your network settings from any device like smart phones,laptops,PC's and more. From the friendly dashboard you can see all connected users and even manage your connections and control them from one place.
Pros 

Cons

 
 Amazing WiFi speed
 A little bit bulky in size
 Wide range
Supports 4K and HD video streaming
ARRIS SURFboard DOCSIS 3.0 Modem Router Combo (SBG6400)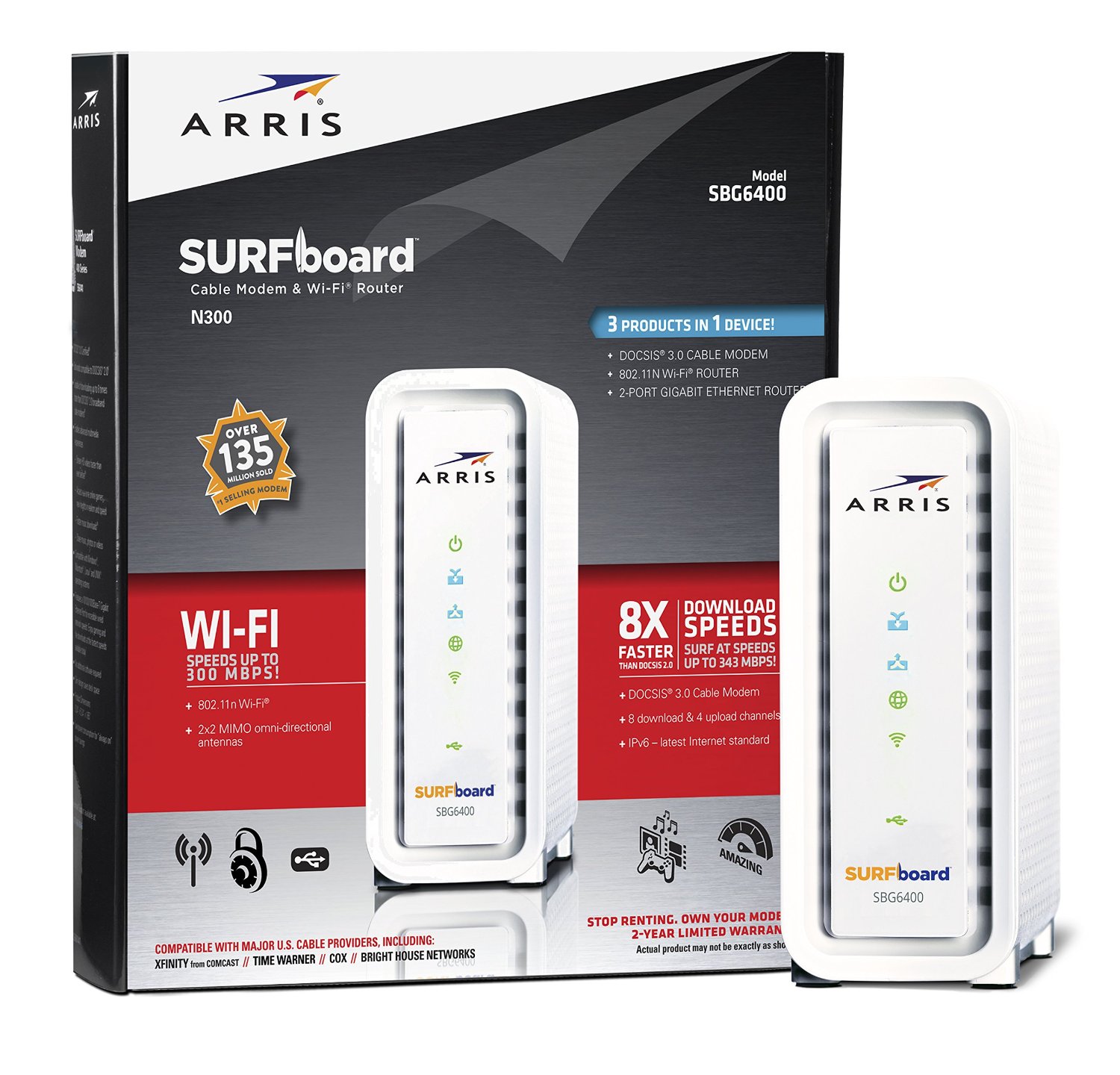 This model ARRIS SURFboard DOCSIS 3.0 is well known and compatible with most major cable service providers, it can reach fast download speeds of 343Mbps and a pretty good upload speed too of 131Mbps, for this price range, it's pretty worth it. The best part about this device is its really reliable and versatile while it comes with 2 gigabit/speed Ethernet ports that facilitate direct wired connections.
When considering this device while being considered pretty basic in the niche of modem router combo models, this device still has fast download and upload rates. Like other models on this list, the SBG6400 is a pretty solid modem for HD gaming and streaming it can reach speeds of up to 340Mbps and has an internal processor that boasts good performance for your needs. While using this model you generally won't notice any latency issues over the WiFi and it compatible with Windows and Mac, ideal for big homes that need a good range and power. Model also comes with parental control and firewall.
Pros 

Cons

 
 Good value for money
Online gaming could be better
 Handles everyday use with no issues
 Very versatile
Actiontec 300 Mbps Wireless-N ADSL (GT784WN)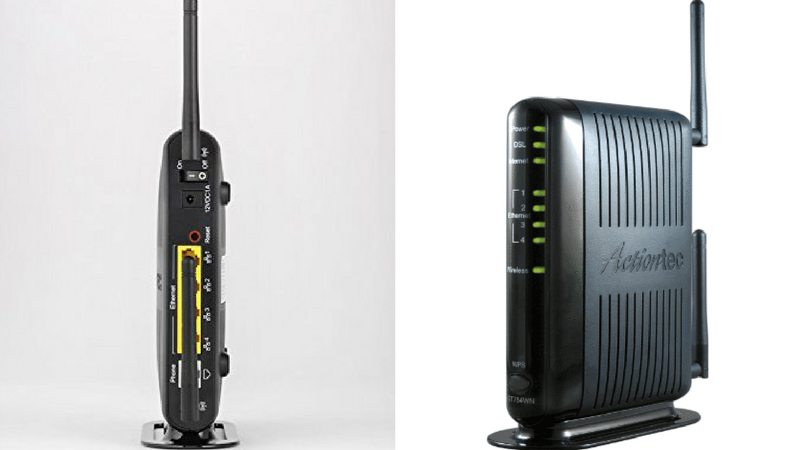 Well if you're in the market for a really cheap cable modem/router combo than you can't get any cheaper than the Actiontec 300Mbps Wireless-N ADSL Modem Router. It's as basic as it gets, the model is made only for DSL ( not cable ) internet connections. We won't recommend it to anyone, maybe if you need a device for 1 person maybe 2 tops at home or small office that need internet for light internet browsing and email checking, anything harder than that and this device won't make it. The modem has basic ADSL 2/2+ and the router is also pretty basic with wireless-N device that is able to deliver up to 300Mbps single-band wireless throughout. So why is this model even on this list? Because the Actiontec can deliver a consistent and reliable service within its limitations, and if you're looking for a cheap, reliable modem/router, this will work just fine.
Pros 

Cons

 
 Very affordable
Not fast
 Reliable
 Only ADSL
TP-LINK Wireless Modem Router Combo N300 DOCSIS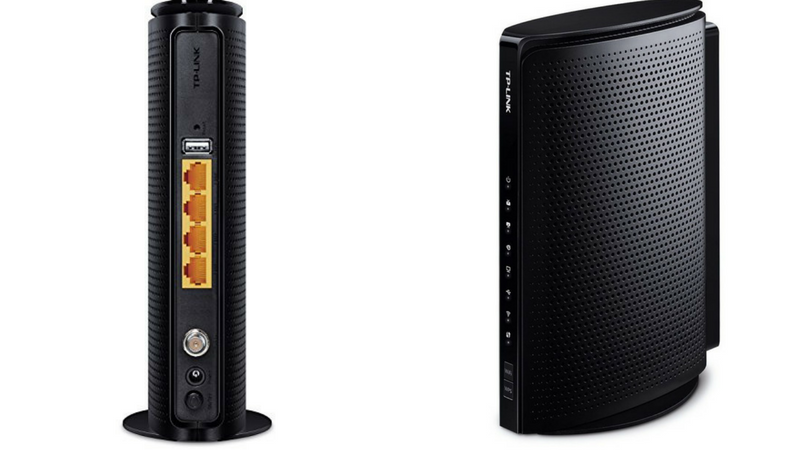 The TP-Link N300 is maybe one of the most affordable options on this list while still giving you decent performance. It's a good choice if you're looking for a reliable modem router with a strong signal. The model comes paired with the latest N300 WiFi and DOCSIS 3.0 technology, this means you can get a high speed of download up to 300Mbps, you know what that speed means right? Faster file transfers, great online gaming experience and HD video streaming that won't lag.
So like we mentioned before with the DOCSIS technology behind it you can get up to 143Mbps upload speeds and this model also utilises eight downstream and four upstream channels, which means you can count on it to perform well and fast on intensive jobs like HD video streaming and gaming. The back side of the model is packed with 4 Gigabit Ethernet ports that provide you with access to direct wired connections that may not be used wireless capabilities. A very easy step by step installation and configuration process makes this modem router combo a great choice for the plug and play lovers.
Pros 

Cons

 
 Plug and play
Makes a very annoying subtile noise – don't put this in your bedroom
 Good transfer rate
 Good range
ARRIS SURFboard DOCSIS 3.0 with N600 Router (SBG6580)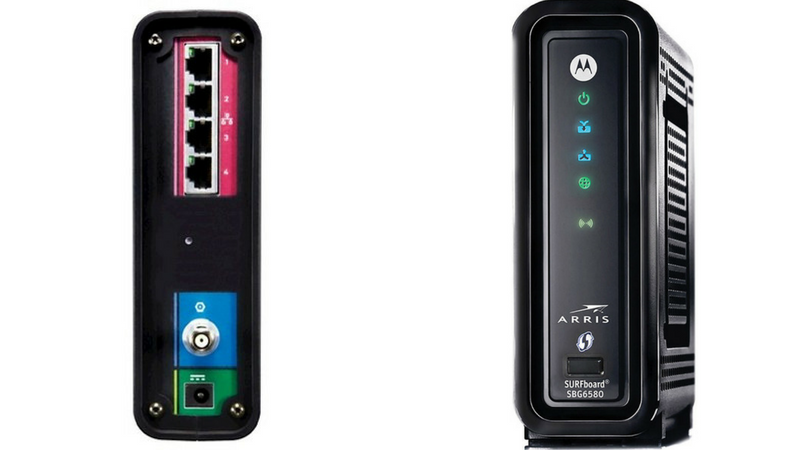 Another great option from the ARRIS brand. It is very affordable in the modem router combo niche. The ARRIS SBG6580 is highly recommended for those who want to get a WHOA effect from your WiFi signal device. This model is also paired with DOCSIS 3.0 technology which is much better than it's predecessor DOCSIS 2.0. What else? Well it also comes with N600 capacity which will help you to get super fast download speeds of up to 343Mbps.
This model also comes with the highest level of security so that no unwanted people or hackers will put your online browsing at risk. The model also supports advanced encryption services for data, this modem router combo also comes with parental control so that you could filter out content you don't want your kids to see. Very user friendly interface helps to make it easy to install and configure this device and manage your networks from your tablets, mobile or PC.
Pros 

Cons

 
 Compatible with most US providers
Tends to heat up – need to be placed where there's good airflow
 advanced security features
 Solid speeds for upload and download
Netgear AC1750 (16X4) Wi-Fi Cable Modem Router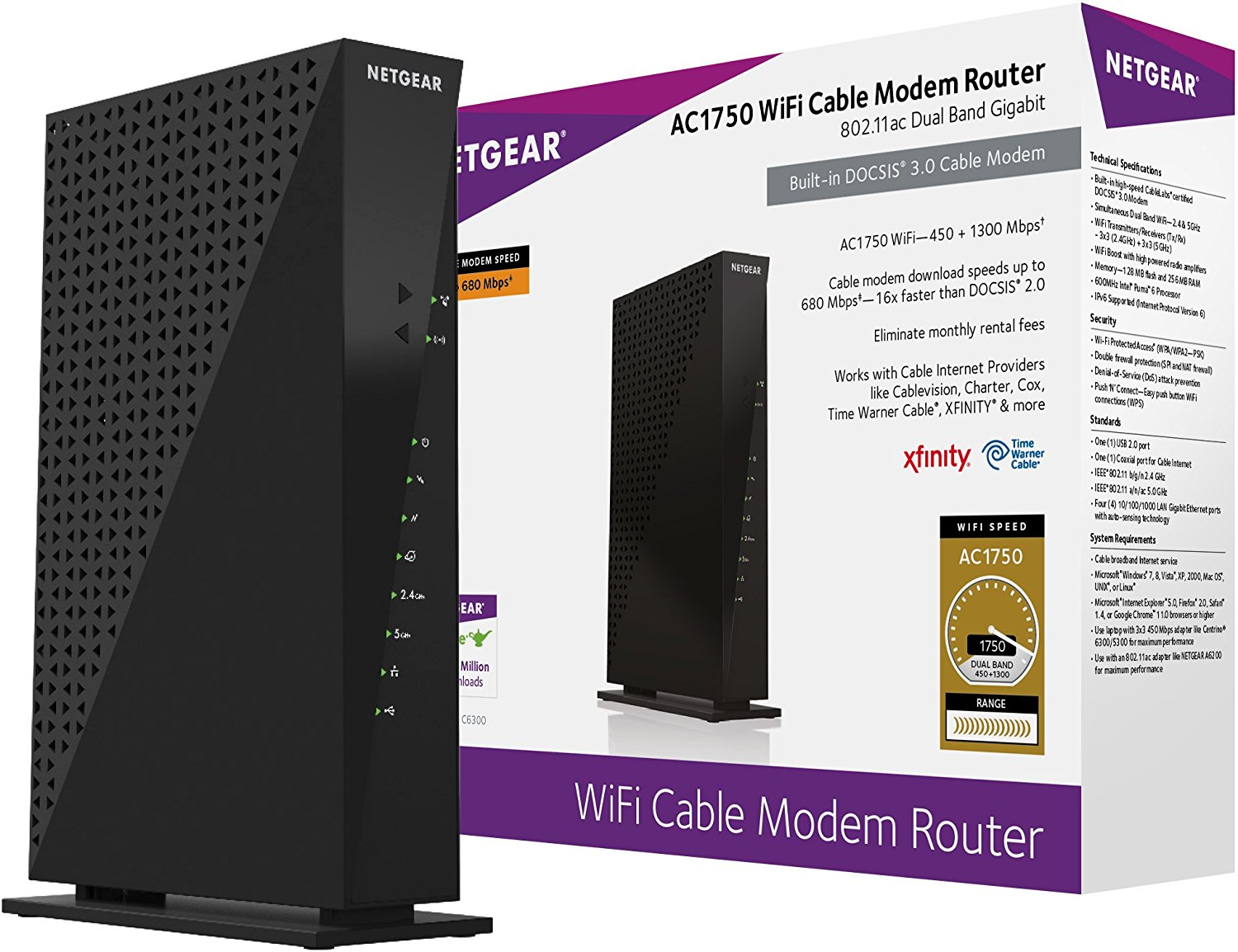 The NETGEAR AC1750 WiFi Cable Modem router is a fast, reliable modem router combo that you can count on. It's also pretty well priced and won't break your wallet, why not get 16x download speeds and up to 680Mbps with this router modem. It also has some other interesting features like the 2-in-1 modem router combo uses the latest DOCSIS 3.0 technology which means it will work with most US cable internet service providers. Also comes with a USB port so you can wirelessly access and share your hard drives. The modem supports four upstream channels and 16 downstream channels to give you a reliable and consistent internet access.
Pros 

Cons

 
 Good price
Short warranty period
 Great speed
 Easy to set up