There are a shit load of things in this world that just screams geek, but if i have to name one thing that stands out from the crowd in the geeky world it's definitely Star Wars gadgets. Nothing can compare to a cool item in the shape of your favorite character from the epic movie series and whenever you get a chance to get such an item, it's always like winning the lottery, a non geek will never understand. Introducing the R2D2 car USB Charger that will be your trusted traveling companion.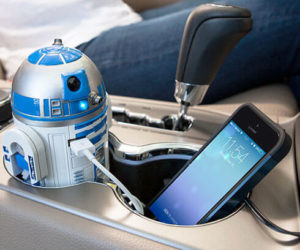 This ultra cool, ultra useful little gadget, the R2D2 USB Car Charger was designed to fit perfectly inside the cup holder so it won't move while driving. It's has two USB ports and it's pretty damn detailed, it's definitely the droid you're looking for Obi-Wan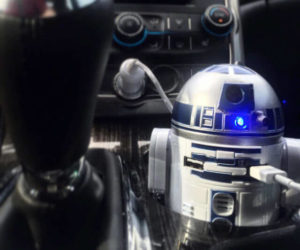 Now while we are not yet advanced enough to have a full functional R2D2 droid like in the movies, we can still take advantage of this little guy and make sure our phones will never run out of power. Another cool thing to know about this R2D2 car charger is that his head can rotate, Yup just like the real droid so is this little guy can spin his head in full R2D2 fashion.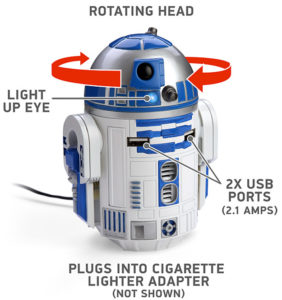 Here are some technical stuff you want to know: 
It's called R2D2 USB Car Charger
It's an exclusive ThinkGeek gadget
It's an officially licensed Star Wars merch
You can charge anything you like with this thing, as long as you have a USB cable
It has not one, but two USB ports
Each port gives out 2.1 Amps, which is more than enough to charge two phones together
The R2D2 head, or dome can rotate, it also has some cool lights and makes beeping sounds just like the real thing when you plug in a device
It has flexible arms so you can fit it easily inside any car
Blue, Red LED lights inside the eyes of the droid indicates the status of the power USB port
The size is 5 1/2″ tall, 3 1/2″ wide at it's widest point, 2″ diameter at the bottom so it could sit comfortably in your cup holder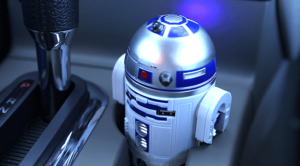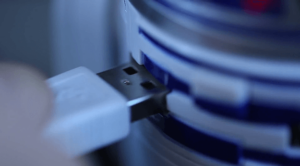 This little gizmo will set you back $49.99, which is a steal considering a true Star Wars fan never puts a price on memorabilia. You can go ahead and snag it at ThinkGeek before it runs out.
Still not convinced? Take a look at the video and images below and remember that a Jedi never doubts. So use your force and get this R2D2 car charger in your life already