It happens every time you plan a trip outside or you know you need to walk in water but you always forget to buy some good water shoes. This is why we compiled this post of the best water shoes for women so that the next time your walking, you'll be ready for everything!
Why do i need water shoes anyway you might ask?
Well think about it, if you're taking a walk in water or next to a river than you can't use your regular shoes right? You don't want them to get dirty or get soaked in water, this is why companies invented the water shoes and in this post specifically the water shoes for women. So you can wear good shoes that are meant to be walked inside water and still protect your feet from whatever.
What's the difference between a regular shoe and water shoes?
There are several things that make water shoes different from regular ones:
a. Most water shoes will be made from special fabrics that are quick-dry and thin enough to let your feet breath. Usually they will be very flexible almost like a thick sock so you won't feel the heavy shoes when they get wet.
b. Water shoes have water ports or water holes in the bottom of the shoe so that water can easily get in and get out without draining your feet for long periods of time.
These are the main differences of water shoes. Browse the list of the best water shoes for women below and we hope you find a pair that's right for you.
1:
3T BAREFOOT MAX Water Shoe is the first in our water shoes for women list
Why not try these cool 3T Barefoot MAX minimalist water shoes that have a separate place for your big toe and for your other fingers. They are made for quick dry and also have drainage holes in the sole so you won't keep the water in and make it uncomfortable. These water shoes are a great choice if you're looking for water shoes for women.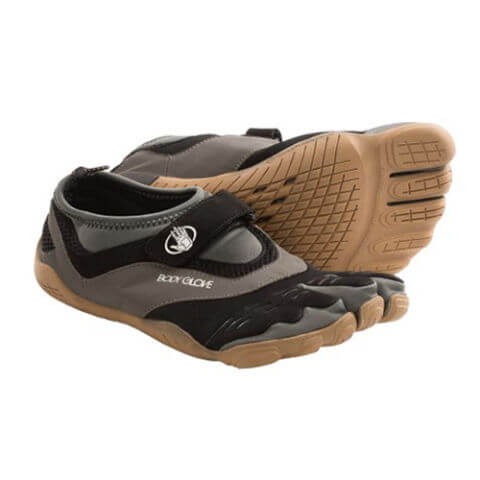 2: 
adidas Outdoor Women's Climacool Boat Sleek Water Shoe
OK we all know Adidas, i don't think there's anyone out there who doesn't know Adidas brand so there is no point in elaborating on them. This sleek design with the familiar three-stripes makes it look like the regular Adidas shoes we all know and love. But thanks to the mesh material and drainage holes or ports these shoes are perfect for water and wet walks. The extra kick in these shoes is the foam tongue that feels comfortable against the top of the foot. Adidas is always a good choice.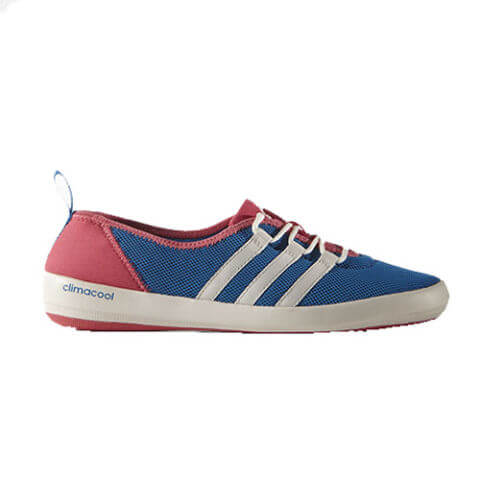 3: 
Merrell Men's All Out Blaze Sieve Water Sandal
The upper of these shoes is made from leather, but don't worry, they are definitely water shoes and waterproof. The Merrel Men's All Out Blaze has a Vibram sole that will make it easy to walk on slippery surfaces because of the good grip, like many other water shoes for women these shoes also have holes in them to help the water flow in and out. Just make sure to not get rocks inside or it will hurt your feet. This model is pretty solid and a good buy.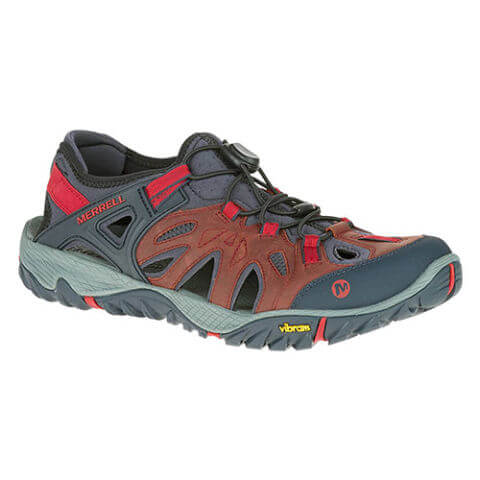 4: 
Helly Hansen Women's HH 5.5 M Sailing Shoe
The Helly Hansen Women water shoe has a more lifestyle look which we really love in our water shoes. You noticed the suede toe which is actually waterproof. The upper and drainage holes gives the water the ability to get in and out easily. The mesh fabric dries easily enough and the sole is made from a non slip material so you can use them on the boat deck with out worry.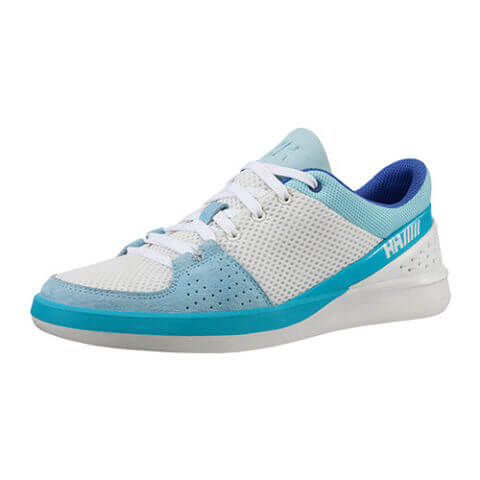 5: 
NRS Kinetic Water Shoes
If you're heading for an intense water walk or trip or an epic adventure, please think about these full on slip-ons water shoes for women. They are made of 3mm thick neoprene with titanium that will make your feet nice and warm even when they're wet. The NRS Kinetic shoes have rubber soles to keep your feet protected so that you won't slip all over and embarrass yourself. These sure are a good choice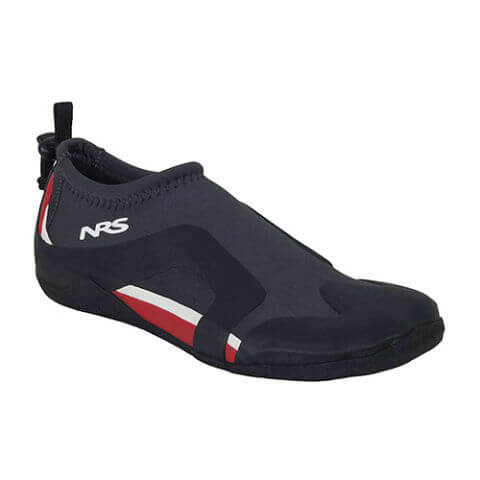 6: 
Speedo Women's Beachrunner 3.0 Water Shoe
These Speedo Women's Beachrunner shoes has an all open upper so putting them on is very easy and fast with a simple slip-on whenever you need to. The fabric of these shoes is both breathable and can be washed down with water to keep clean. It has a thin sole to give your feet a little cushion from the road but these mainly feel like a sock. Great choice when you need to walk in water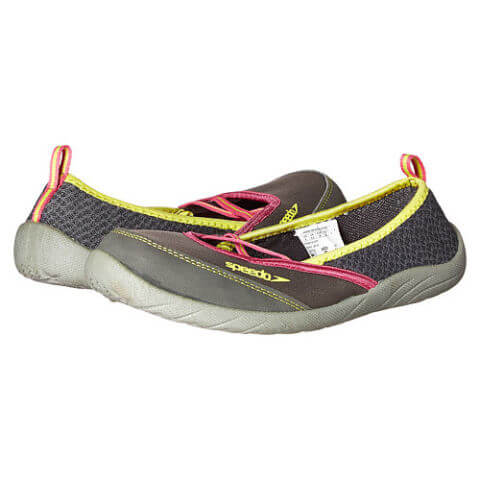 7: 
Columbia Men's Drainmaker III Water Shoe
If you're looking for a more athletic water shoe, one that you can run with and has more cushions in it than this Columbia Men's Drainmaker is a good choice for you. The shoe has enough cushioning inside so you can comfortably run with it with no worry. The upper is easily dried with a quick-drying fabric and the drainage holes in the bottom sole can let the water out quickly and easily. The outsole has good traction to keep you safe and not slipping all the time.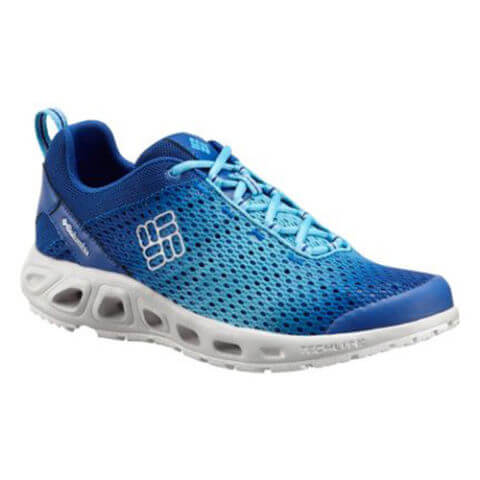 8: Women's Lucille Water Sock – C9 Champion Small 5/6
This model is pretty basic but gets the job done perfectly. The Women's Lucile water stock slip on shoes gives you exactly what you need and look for in a water shoe. It has rubber soles that will be no-slip and also protect your feet from rocks or shells. You can also adjust the top strap on the upper to give you a better grip. These are basic model shoes but are pretty good for those who are looking just to walk on water or in the ocean.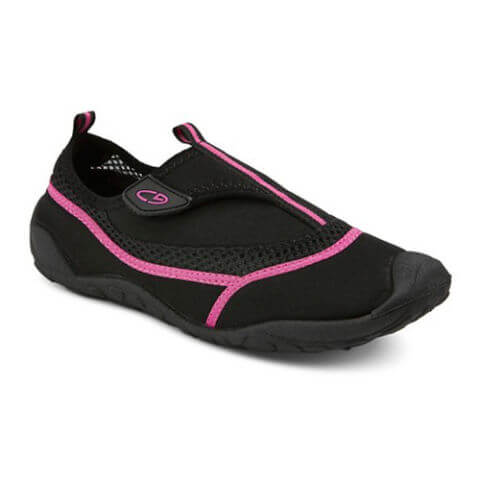 9: Lands' End Men's Rugged Water Shoes
The Lands' End Men's water shoes have a thick outsole and a reinforced toe that will protect your toes on what ever you walk on inside the water. The shoes have drainage holes like most models of this kind and the fabric is made from quick dry type that will make sure your feet will dry as quickly as possible. The shoes have bungee laces to make the whole thing of fitting very simple too. Great choice if you want a more bulky water shoes for women.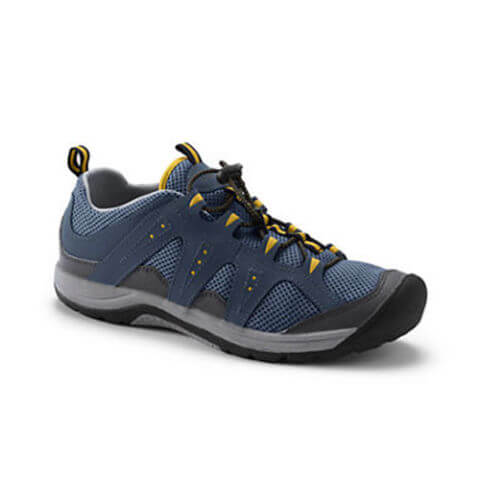 10: 
Women's Wave Water Shoes Pool Beach Aqua Socks, Yoga , Exercise
These Women water shoes for women from the Wave Water brand come in four colors and can be used for both Yoga dance and exercise. These shoes have a great design as you can see from the image below and the lace in the back can be used to better fit on your feet. These are a simple basic water shoes but they do the job pretty good.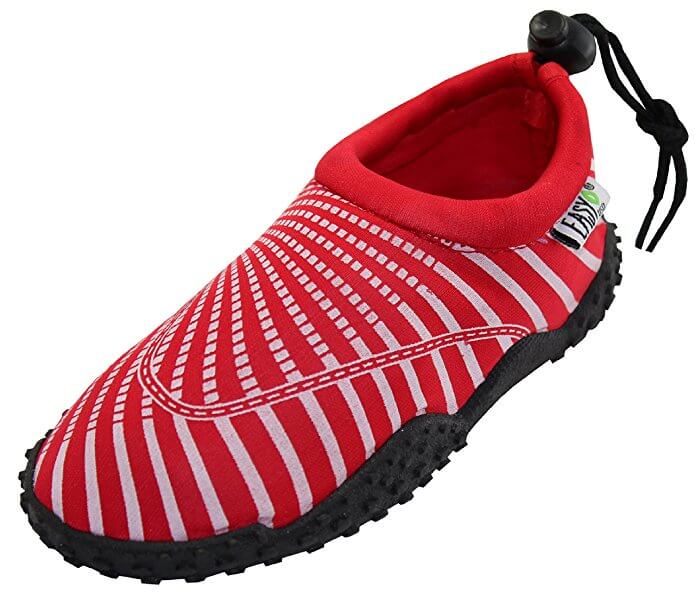 We this list of water shoes for women help you in your search for better water shoes. If you have something to share with us or to add, please leave a though in the comment or contact us directly. Geek out.