Doesn't matter if you just really love hot dogs, or you own a business that needs to make hot dogs on a regular basis, this list of the best hot dog steamers will help you figure out which machine is the right kind for you. From humidity control and cool vintage designs, we have them all. Browse through the list and don't hesitate checking them out from the seller page.
1: Cuizen Hot Dog Steamer is the first on our best hot dog steamers list.
If you're looking for a classic hot dog steamer, this is for you. The Cuizen Hot Dog Steamer has an old school look and feel with white and red color combo. If you want you can also keep your buns inside to make sure they stay eat-ready, just drop them inside 12 at a time in the integrated warmer and let them sit for a while. check the machine here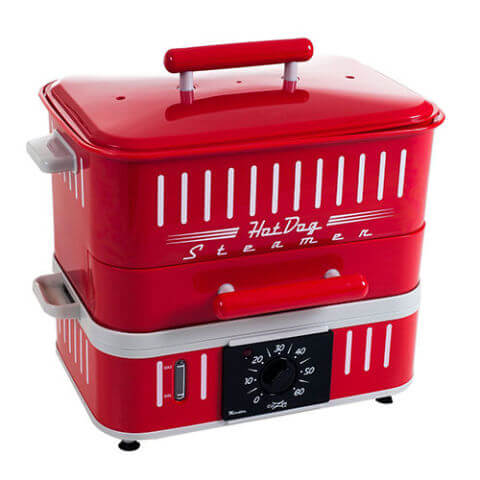 2: Maverick Hero Electric Hot Dog Steamer
This Maverick Hero steamer in awesome for those looking for canine companionship. Why not add a visual pun fun to your next got dog party?  This hot dog steamer is shaped like a dog. Just stick up to six hot dogs inside and wait for nine short minutes. When it's done you can enjoy your delicious loot.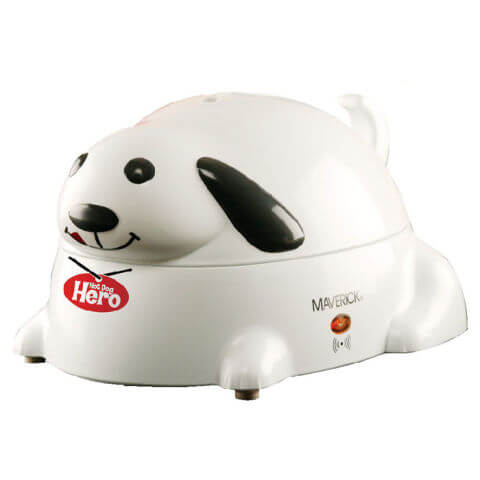 3: Paragon International Hot Dog Steamer
This model Paragon International steamer has a cool automated shut-off feature that will turn the machine off once the water level is at halfway. This is a cool feature because you can now switch it and leave it and do other things while your hot dogs are getting cooked. One of the best hot dog steamers and worth checking out.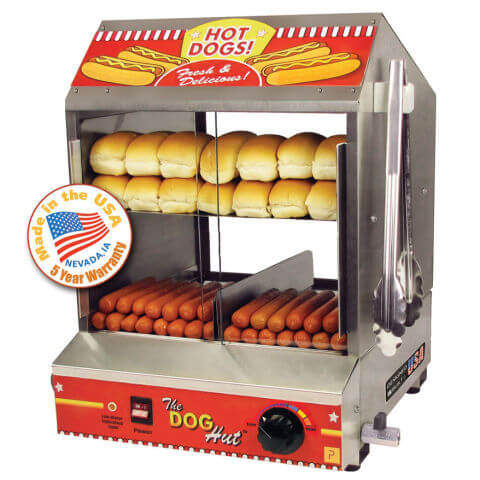 4: Smart Planet Steam-O-Matic Hot Dog Steamer
This is for those who lack the patience to wait, the Smart Planet Steam-O-Matic can make up to eight hot dogs at once and in record speed of just five minutes. You also get a cool recipe booklet so you could expand your taste with awesome recipes. Check it out right now. If you're looking for the best hot dog steamers and want fast results, this is the device for you.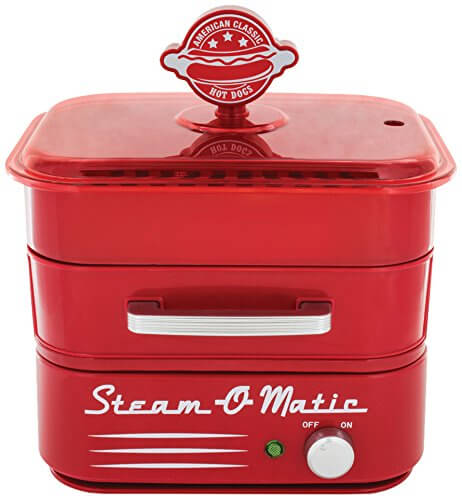 5: Nemco Countertop Hot Dog Steamer
OK so the Nemo Countertop is the perfect hot dog steamer if you want to serve a lot of people or even own a restaurant or something, it can cook up to 150 six-inch hot dogs at the same time and with only 20 minutes of preheat time you won't wait too long for your food to be ready. This is worth checking out if you need plenty of space.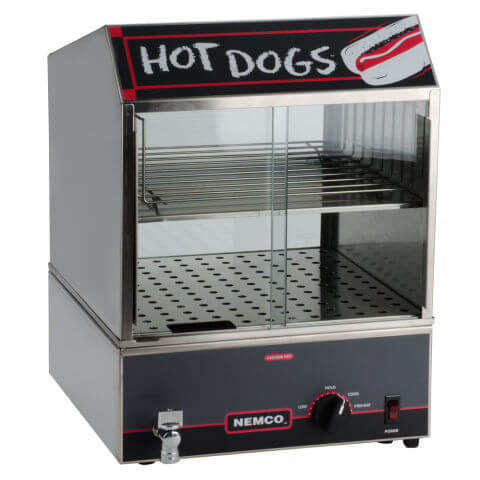 6: Paragon International Classic Hot Dog Steamer
This Paragon International Classic hot dog steamer is best for those on a tight budget. If you need a commercial hot dog machine without the high price tag, you just found it. This is an affordable machine coming in just under $270 per unit. It has a powerful 1,200 watts which is enough to cook a few batches throughout your day. Check it out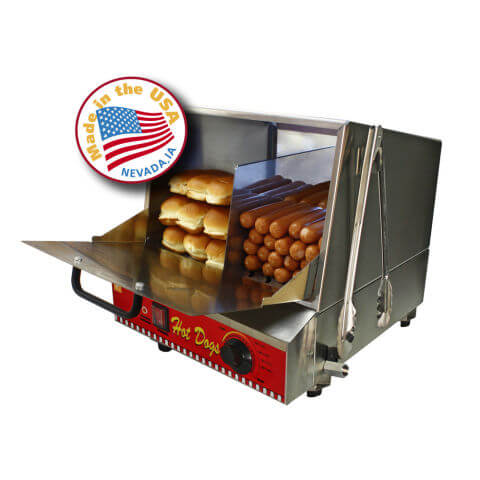 Best hot dog steamers #7: Omcan Hot Dog Steamer
The Omcan dog machine is for those who enjoy the long haul, why? Because this beast is going to last you forever, if you're planning on opening a business you need this baby with you. It will stand the test of time believe me. It's durable, stainless steel and it has a lid and cabinet. This machine has a reputation for being tough even if you use it a lot of times and yes, relax, you still have the one year warranty.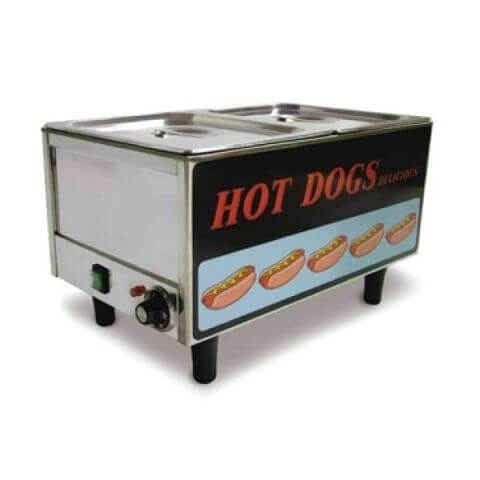 8: Avantaco Hot Dog Steamer
The best thing about the Avantaco dog machine is that you never run out of water for steaming. You can pour up to six quarts inside of water, set your desired temperature and humidity and this thing will take care of everything else. You can seriously serve a lot of people with this thing and not stressed about the water. Check it out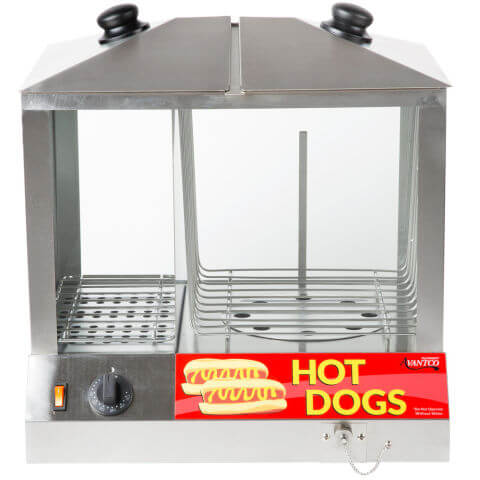 9: Adcraft Hot Dog Steamer
The Adcraft machine is best for stress free hot dogs making. You won't need any elbow grease for a post-cook cleanup guys, this machine is perfect for lazy people. The stainless steel construction makes it much more clean than other machines, so this could be a great choice.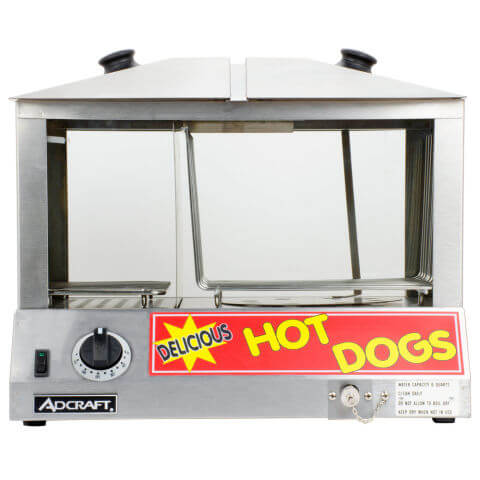 10: Star Manufacturing Classic Steamro Jr. Hot Dog Steamer
Use the humidity control feature of this Star Manufacturing Classic Steamro to make sure your buns wont  get soggy. This hot dog steamer has a cool design and you can see from the picture below that you can separate the buns and dogs in a nicely organises way. This steamer is pretty good and worth checking out.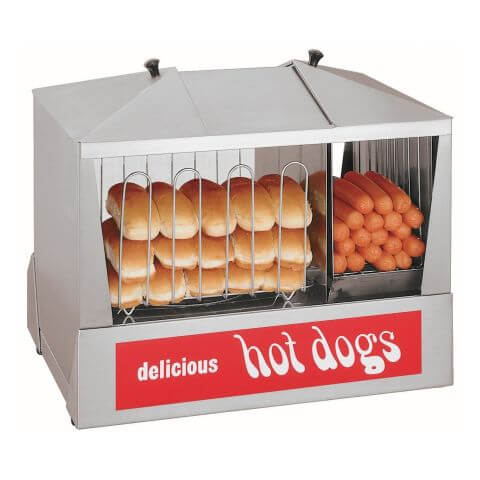 Bonus 11: 
Great Northern Commercial Quality 18 Hot Dog and 7 Roller Grilling Machine
The Great Northern Commercial Quality is a not a cheap knock off machine. It is the original hot dog steamer and it comes with a one year warranty. With this machine you can make steamy and delicious hot dogs to your friends without all the fizzle and fuss. Just load the dogs on the rails and let it do its thing. Check it out. This is the last product on our best hot dog steamers list, hope you found what you need.